Bookmans News
As an entertainment exchange we naturally love film and music, but the Tucson Film and Music Festival amplifies the splendor of our favorites with their eighth annual homage. Thursday, October 11 marks the first day of the three-day festival being hosted by Tucson favorites including La Cocina, Cinema La Placita, The Loft Cinema and Century El Con 20.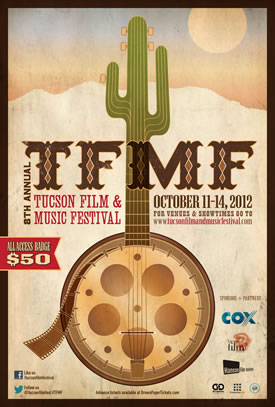 Purchase an all-access badge for $50, which allows admittance to over 15 events, or purchase tickets individually to the shows of your choice. The opening night film Strutter kicks off the festival at the Loft Cinema. Strutter is an endearing comedy about an aspiring musician. This film has an incredible original musical score and is the third film collaboration by Allison Anders and Kurt Voss. The centerpiece of the film festival is The History of Future Folk, which follows musicians General Trius and Mighty Kevin inhabitants of the distant planet Hondo. This film is an quirky sci-fi tale of two aliens with acoustical antics that lead to comedic mayhem and the salvation of the human race.
The closing film is Bad Brains: A Band in DC, which follows one of the most influential and important bands still rocking out today. Their reggae and punk style are unmatched. Original archival footage and comic illustrations recount their thirty-year rich and complicated history. The diversity of the films have something for everyone at the festival and with only three days to take it all in you better take advantage before it's all gone.