Bookmans News
They're back and sponsored by Bookmans. The women of the Arizona Derby Dames are ready to kick off their sixth season on Saturday, Jan. 29 at Arizona Veterans Memorial Coliseum. This season all five Arizona Derby Dames teams (the Brutal Beauties, the Schoolyard Scrappers, the Coffin Draggers, the Runaway Brides and the Bombshells) will be returning along with the debut of the revamped Arizona Derby Dames all star travel team the Hot Shots. The Hot Shots will play three home games against visiting teams this season as part of the Arizona Derby Dames schedule. Arizona Derby Dames will also host the annual national banked track tournament Battle on the Bank IV at the Arizona Veterans Memorial Coliseum for three days in June. The 2011 season is shaping up to be the Arizona Derby Dames biggest yet.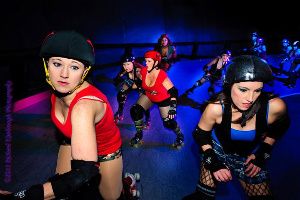 This season each game will be played in its entirety before the next game begins. Additionally the Arizona Derby Dames will be playing by the much stricter and more competitive W.O.R.D. rules, which are quickly becoming the standard in the banked track roller derby community. Two amazing match ups start things off as the Runaway Brides take on the 2010 Champions the Coffin Draggers followed by the Schoolyard Scrappers versus the Bombshells.
Arizona Veteran's Memorial Coliseum is located at 1826 W. McDowell Rd. in Phoenix. Tickets are available at the Arizona Derby Dames website and start at $12. Stop by the Arizona Sate Fair Bar and Grill on the lower level for dinner before the bout starting at 5 p.m. Stick around for the after party with live music from Scorpion vs. Tarantula followed by music from D.J. Nick Feratu. Meet with the Arizona Derby Dames over great food and drink and discuss the night's bouts. All ages are welcome but you must be over 21 to be served at the bar.
Bookmans has two pairs of tickets to give away. Will you get a set? Comment now until noon on Friday to win. Tell us what you'll eat at the bar and grill, which team is your favorite or your darkest secret. We won't judge; just comment to win. If more than two of you respond, we will randomize the winners. Winners will be notified by e-mail. Comments are moderated and may take some time to appear. Please do not resubmit your comments -- one is plenty.
*****UPDATE*****
Congratulations Peace in the City and Mandy. You will be contacted by Lori in Phoenix soon.