Bookmans News
Animated films transcend language barriers for the pure joy of entertaining kids, but films by Hayao Miyazaki hit a level of creativity and visual intrigue that put them in a class of their own. The Tokyo native started as an animator early in his carrer and had his directoral debut in Lupin the Third: The Castle of Cagliostro in 1979, but was most noted for winning the Japanese Academy Award for Best Film Princess Mononoke in 1997. Miyazaki was nicknamed the Japanese Walt Disney for good reason, producing memorable films including My Neighbor Totoro, Kiki's Delivery Service, Spirited Away, Howl's Moving Castle and Ponyo.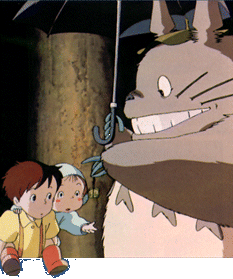 From My Neighbor Totoro via The Hayao Miyazaki Web.
We prefer to watch the films in their pre-dubbed state to enjoy the beauty of the lanugauge and preserve the originality of the film, but we understand kids can't read as fast as the subtitles streak across the screen. This is why Disney dubbed several of Miyazaki's films with the voices of highly talented (and famous) actors in their U.S. releases. We find the wonder and whimsy in his films to be unmatched as well as his enjoyment for creating original characters. Every director has a certain style or formula they can be identified by and Miyazaki's usually is inclusion of a flying element, a young protagonist and the exploration of other worlds either geological or magical.
We particularly love Howl's Moving Castle, the story of a young girl cursed by a spiteful old witch. The curse of old age sets in on Sophie as she falls in love with a insecure wizard, Howl, who happens to live in a moving castle. The moving castle is as much as a character as the rest with its patchwork body and fueled by the fire demon Calcifer. On their journey of fighting the curse Sophie falls in love with Howl and gives him the confidence he needs to fight the Witch of Waste and confront his old tutor Madam Suliman. The complex story keeps the viewer entertained and delivers on humor and heart. Do yourself and your family a favor and take a look at the films of Hayao Miyazaki and don't forget the popcorn.