Bookmans News
See John Carpenter's Halloween at 7 p.m. on October 31 in Phoenix Art Museum's Whiteman Hall. Prior to the on-night-only screening there will be a Halloween Costume Contest where the winner will be awarded a cash prize. Museum admission is complimentary; tickets to the event are $12. Luckily for you, Bookmans has two pairs to give away for you to witness this horror classic!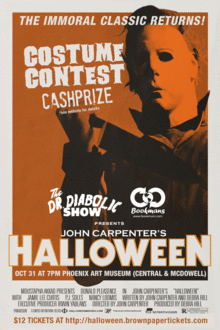 Michael Myers spent the last 15 years locked inside a sanitarium under the care of child psychiatrist Dr. Sam Loomis. On October 30, 1978, Myers escapes and makes his way home to Haddonfield, turning a night of tricks and treats into something sinister for three young women. Dr. Loomis is their only hope, but will he find his shadow-dwelling patient in time?
This presentation of Halloween will include an exclusive documentary short written and directed by Fangoria's Justin Beahm. You Can't Kill The Bogeyman: 35 Years of Halloween focuses on the undeniable impact the film and series has had on culture and the genre. Costume contest details are located on the Facebook event page.
Tell us why your must see horror classic for the Halloween season in the comment section for a chance at a pair of passes. We'll use random.org to pick a winner even if we secretly feel someone else has a more compelling answer. Winners will be notified by e-mail Wednesday mornings or Wednesday sometime or maybe even Thursday, but you have only until Wednesday morning to comment. Comments are moderated and may take some time to appear. Please do not resubmit your comments -- one is plenty.