Date & Time
10/13/2018
3:00 pm - 6:00 pm
Location
Bookmans Midtown
Join Bookmans Midtown every 2nd Saturday for
Free SuperSmash Bros Melee Tournament!
Every month on the second Saturday, we gather around  our CRTs to play some friendly, single-elimination matches to see who is the King/Queen of Smash! We play on a GameCube, and we provide controllers, but bringing your own GameCube controller is encouraged.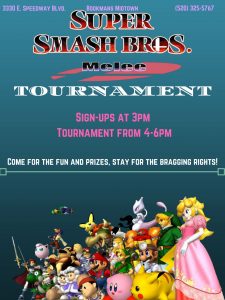 Come for the Prizes, stay for the bragging rights!!
Leave a Reply