Date & Time
10/12/2018
1:00 pm - 2:00 pm
Location
Bookmans Mesa
Each day during Fall Break , we are hosting  events for young people from 1 to 2 p.m. S pend Fall Break at Bookmans and these enjoy art projects, and awesome activities. Check out the free, family-friendly events we have planned for you. All events are free and all materials are supplied.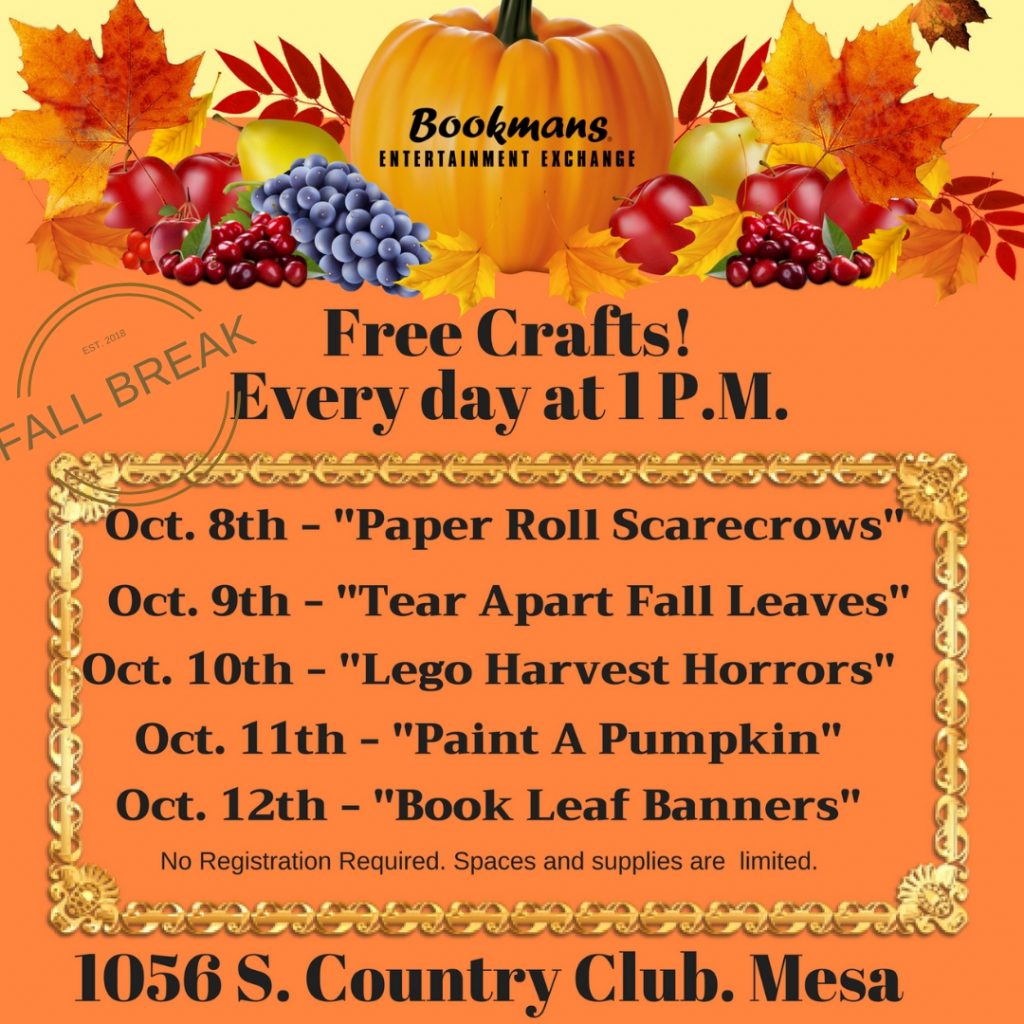 October 8th: Day One – "Recycled Paper Scarecrows"
The calendar says October even if the weather  is saying hot, hot, hot! It's time for some autumn crafting and wishful thinking about Pumpkin Patches and sweet treats! Today we will create a Scarecrow to welcome fall.
October 9th: Day Two – "Tear Apart Fall Wreaths"
What's even better than helping to decorate the house for Autumn and Halloween , is when you're decorating with creations you make yourself! Today we will be making "Tear Apart Fall Wreaths" You can hang on your door!
October 10th: Day Three – "Lego Harvest Horrors"
Get In The Autumn Groove and celebrate with some Lego Love! Enjoy building activities and crafts, including a Lego Free Build. Create the monster of your dreams.  Come and  let your imagination go wild!
October 11th: Day Four – "Paint A Pumpkin"
Bring to life your very own mini pumpkin today and get in that Halloween spirit. Aimed at ages 10 and under this crafty workshop includes all supplies needed to help you serve up the fright. All is needed is your imagination!
October 12th: Day Five – "Fall Leaf Book Banners"
Fall landscapes are gorgeous filled with deep reds, yellows and oranges as the trees change color. We couldn't help but want to bring some of the beauty of Fall indoors with these "Fall Leaf Book Banners"
Spaces and supplies are limited and work on a first come, first serve basis. Don't waste your Fall Break twiddling your thumbs and wondering what to do. Grab a friend or two and your family and enjoy Fall Break at  Bookmans. If you can't make it to Bookmans Mesa, check out our events calendar and plan to attend one of our other free, family-friendly events we host at your home Bookmans location.
Leave a Reply