Date & Time
05/26/2018
12:00 pm - 2:00 pm
Location
Bookmans Flagstaff
This event has a little bit of everything for all ages! Children, teens, and adults will want to join in on this epic geeky event. Have you ever wanted to meet a real live superhero before? Now's your chance! We're partnering with Over the Rainbow Butterfly, Inc. to bring in a couple of our favorite super heroes to have a meet n' greet with. You'll be able to take pictures with them and feel like you are living in the super hero world. We'll also have a cartooning class going on for the little ones. We're bringing in the ever so talented Jan Marc Quisumbing (aka The Janimal) to lead the class. What you learn to draw is completely up to your discretion and will be based on what your interests are. This is a step by step class beginning with simple shapes, so don't worry if you're not a Picasso yet!
The Janimal is a Jersey tomato roasting in the Arizona sun. A graduate of the Mason Gross School of the Arts, Rutgers University (NJ). he works and resides in Sedona. The president of the Northern Arizona Cartoonist Association (NAZCA) he splits his time between creating and drawing comics with hosting drawing classes for kids at local libraries in the Verde Valley and being a father and husband. His work can be seen on Facebook (The Janimal Draws). lnstagram (thejanimaldraws) and Twitter (@janimaltweets). He has 2 cats.
Don't forget your superhero sketch by Shaun Beyale! These sketches are FREE and will make an awesome souvenir from our all things superhero themed event at Bookmans!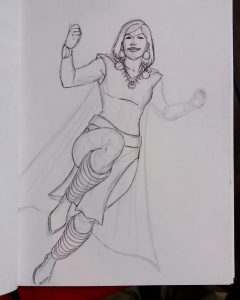 We'll also have a few comic book artists presenting their work including Tom Filsinger and the Art Gecko.
Tom Filsinger is a game entrepreneur who created Champions of the Galaxy, a tabletop and online game that has been successful in the independent game market for thirty years. The game features a cosmic wrestling federation of the future with Star Warrior, Thantos, and Wolf topping the list of competitors. Tom's company, Filsinger Games, has also licensed his game to wrestling promotions like Ring of Honor and Chikara in addition to working with legends such as Rob Van Dam, Kevin Owens, and Ted DiBiase. In 2008 he released a book with Marvel Comics icon Stan Lee of political humor called Election Daze. Filsinger and Lee toured across the country to promote the book, which celebrates its tenth anniversary this summer. Visit Tom at this table, chat a while, and learn to play his popular table top games! Be sure to also check out this Arizona Daily Sun article highlighting his work here.
The Art Gecko has been in the Verde Valley since 1994, when he moved here to open a business in Sedona. The business was Art Gecko's Air Wear, which was branding for the name. However, the name "Art Gecko" became associated more and more with Richard, or Rick, as his friends knew him. He has done illustration work for subsidiaries of Lucasfilm, and Paramount Pictures, mostly in the Star Trek and Star Wars franchises.
Leave a Reply