17aug5:00 pm8:00 pmF.A.B. Market Pop Up!5:00 pm - 8:00 pm Bookmans Entertainment Exchange Midtown, 3330 E. Speedway Blvd.
Event Details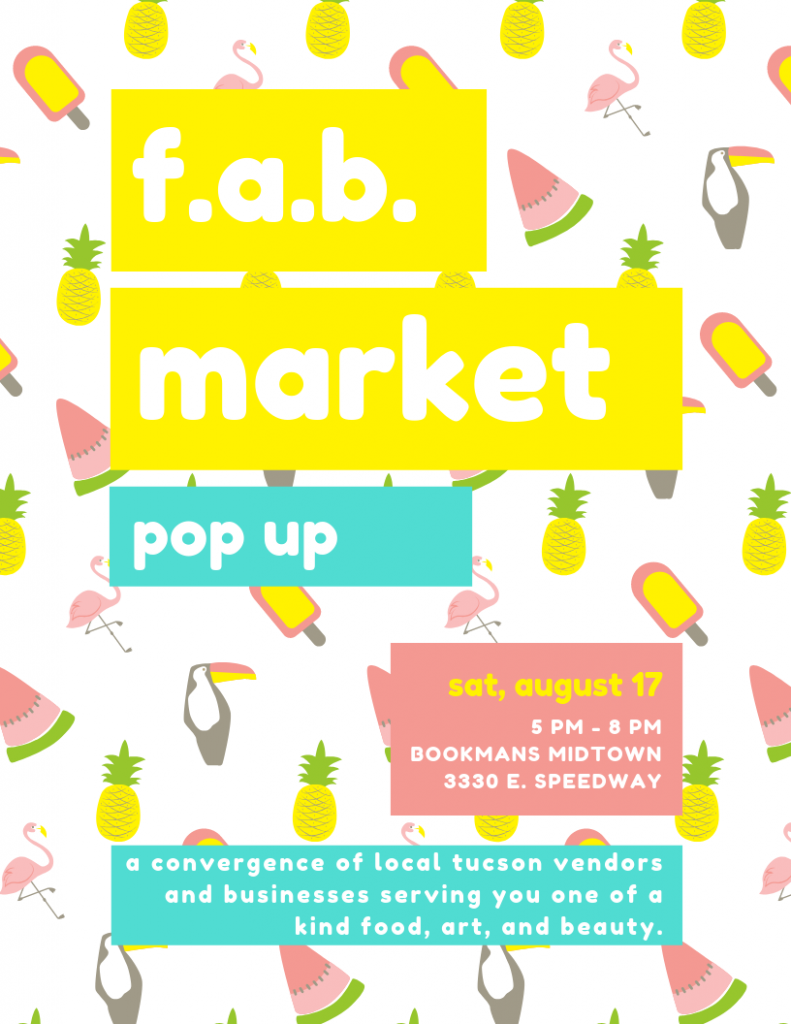 Join Bookmans Midtown for our first ever F.A.B. (Food, Art, & Beauty) Market Pop Up!
We're excited to showcase some of Tucson's very own local food vendors, artists, hair salons, boutiques, and musicians. Join us for a night celebrating everything that makes our city fab!
Who you can expect to see:
Sophie McTear
Sophie McTear (they/them) is an illustrator and graphic designer living in Tucson, AZ. They are inspired by the desert, color, comic books, and the occult. Originally from the east coast, Sophie has spent the past two years marveling at their Sonoran surroundings. Sophie is passionate about LGBTQIA+ activism, music and arts, accessibility, and animals.
Instagram | Twitter | Facebook | Online Shop
Belle Starr Salon
Belle Starr Salon, located on Fort Lowell and Richey, is a salon born and bred in Tucson, AZ. We put an emphasis on healthy beauty alternatives and utilizing natural and organic products while putting a priority in supporting local makers, creators, and artists which we feature in our salon.
Instagram | Facebook | Website
Tarot with Kay
Kay has over forty years of experience as a sensitive & spiritualist. She does tarot card readings for directions, inspiration, and fun.  She believes in positivity and that positive affirmations truly help anyone who tries.
Moxie & Sassafras
It takes more than a good palette and hours in the kitchen to create a memorable dessert experience. It takes moxie. With flavors drawn from a world of adventures, we're not your average cookie. Moxie & Sassafras delivers a unique flavor experience, one bite at a time
Sonoran Witch Boy (Trevor Mock)
Trevor can't remember a time when his thoughts didn't revolve around plants, from caring for his cactus garden as a child to working in plant-related jobs as an adult. His current inspiration comes from desert plants and the excitement he gets from their many strange and beautiful shapes working to protect themselves from their harsh living conditions. His current work is comprised of reverse glass paintings in acrylic on recycled windows and frames.
Time

(Saturday) 5:00 pm - 8:00 pm
Location

Bookmans Entertainment Exchange Midtown

3330 E. Speedway Blvd.