23mar5:00 pm6:00 pmYour Voice, Your Vote: A Book Reading and Signing with Dr. Martha Burk Ph.D.5:00 pm - 6:00 pm Bookmans Entertainment Exchange Midtown, 3330 E. Speedway Blvd.
Event Details

Join Bookmans Midtown as we welcome Dr. Martha Burk, Ph.D. to Tucson for a nonpartisan discussion about her latest book Your Voice, Your Vote on Monday, March 23rd at 5 PM. Copies of Your Voice, Your Vote: 2020-21 Edition: The Savvy Woman's Guide to Politics, Power, and the Change We Need will be available for purchase during the event.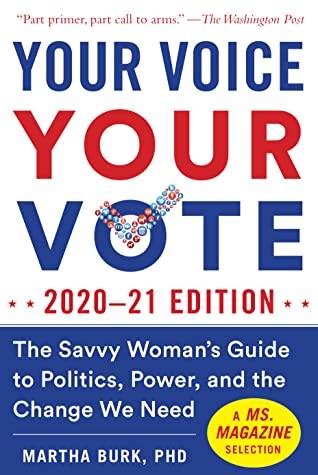 About Your Voice, Your Vote: 
What Every Woman Needs to Know to Bring About Change in the Voting Booth.
In a presidential election year with our currently divided political climate, it is more important than ever for women voters to be educated and informed about issues that affect them deeply. Your Voice, Your Vote 2020–21 Edition is a manifesto for every woman voter and for male voters who care about the women in their lives. Martha Burk empowers the reader to cut through the double talk, irrelevancies, and false promises and focuses directly on what's at stake for women not only from now through the 2020 election but also in the years beyond. Written from a nonpartisan viewpoint, Dr. Burk lays out the records of both the Democratic and Republican parties as well as their platforms on topics such as:
Health care * Pay equity * Reproductive rights * Maternity & family leave * Social security * Sick leave * Child and long-term care * Violence against women * LGBTQ rights * Education and Title IX * Taxes and the economy * Women in the Military * Affirmative action * Equal Rights Amendment
Informative and insightful, Your Voice, Your Vote should be carried to every political rally, every press conference, every precinct meeting—and into the voting booth!
About Martha Burk:
Dr. Martha Burk is a political psychologist and women's issues expert who is co-founder of the Center for Advancement of Public Policy, a research and policy analysis organization in Washington, D.C. She is currently Director of the Corporate Accountability Project for the National Council of Women's Organizations (NCWO). She also serves as the Money Editor for Ms. Magazine. Her public radio show Equal Time with Martha Burk originates from KSFR public radio in Santa Fe and is marketed through Public Radio Exchange from Public Radio International.
Time

(Monday) 5:00 pm - 6:00 pm
Location

Bookmans Entertainment Exchange Midtown

3330 E. Speedway Blvd.