We revamped the Bookmans School Challenge to reach more schools, educators and students. Check back here for the exciting details. All will be revealed soon.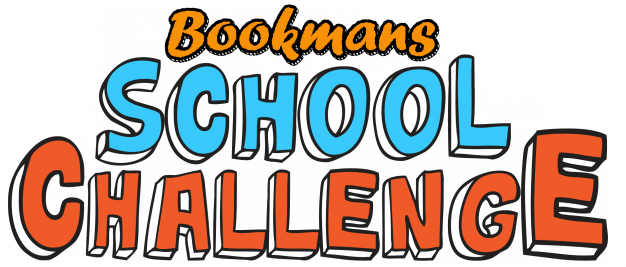 To help educators encourage a love of reading in their students, we launched the Bookmans Reading Challenge to public and charter elementary schools in Arizona in 2007. Teachers across the state reported their students read over a million books in our Reading Challenge, but by 2010 it seemed as though negative stories about schools outnumbered the positive as the media and some politicians portrayed public education as failing. Our partners in literacy advocacy were telling us inspirational stories about about innovative educational programs put into play by hardworking public educators. We wanted everyone to hear about these positive things that schools and students were doing in the face of criticism and despite the lack of funding. We updated our Reading Challenge to include a greater number of students and a wider variety of curricular activities. This shift in focus required a new name — the Bookmans School Challenge.
Dates to remember for the 2014 Bookmans School Challenge:
* September 1, 2013 — School Challenge Kick Off
Application process officially begins.
* December 1, 2013 — Application Process Closes
* January 6, 2014 — School Challenge Top 10 Revealed
School Challenge Semi-finalists announced on our website.
* February 7, 2014 — Videos from Schools Due to Bookmans
No procrastinating! School semi-finalists' videos need to be scripted, filmed, edited and uploaded to our YouTube channel.
* February 10, 2014 — Videos Go Public
We will feature two videos per day to show off our top ten challengers.
* February 17, 2014 — Voting Begins
Two finalists will be selected by our committee but you will select the third. The school with the most votes receives an automatic place in the finals.
* February 24, 2014 — School Challenge Top 3 Revealed
School site visits will be scheduled. We are already looking forward to meeting you.
* March 3, 2014 — School Challenge Winner Announced!
Watch for our next Bookmans School Challenge.
* Three schools receive awards as we give away a total of $21,000 in cash!
* High schools, middle schools, junior highs and elementary schools — all school configurations are encouraged to apply!
* Easy online application process.
* The School Challenge is open to public and charter schools located in Arizona and proximate to our stores in Flagstaff, Mesa, Phoenix and Tucson.
In the initial application schools tell us who they are as a school community, what they do well and how they plan to apply that to where they need help. A team of Bookmans Entertainment Exchange employees evaluate each application looking for inspired, creative and enthusiastic proposals and select our top ten. Those ten schools will move to phase two of our contest by entering a short video explaining their proposal to the public. Three schools, one selected by popular vote on Facebook and two by committee, enter the final phase when they host a visit/interview from the Bookmans team so we can meet in person. All three of these schools are winners because these schools rose to the Bookmans School Challenge. For this reason we reward the runners up $3,000 each. Only one school rises to the very top and for their efforts Bookmans awards that school $15,000.
We don't want the momentum to stop there. We want to hear all year round from each school entering the Bookmans School Challenge. We know how hard educators work and what great work can be accomplished by students.Tweet us,e-mail us, tag us on Facebook telling us what your schools are doing to encourage life-long learning.