25sep10:00 am12:00 pmBanned Books Month: Local Author Celebration10:00 am - 12:00 pm Bookmans Entertainment Exchange Northwest, 3733 W. Ina Rd.
Event Details

Bookmans Northwest is taking a day during Banned Books Month to honor local and independent authors. Join us on September 25th from 10AM-12PM. We invite you to buy books, get them signed, meet the authors and ask them questions.

Author Days happen quarterly at Bookmans Northwest. Bookmans supports local and independent authors and takes pride in their success. Come meet, interact, and enjoy the rich writing community in Southern Arizona. If you are a local author interested in joining us at Author Day please email northwestevents@bookmans.com for information on how to participate.

Be sure to head over to Bookmans Midtown (3330 E Speedway Blvd) from 2-5PM to meet even more local and independent authors at their Authors Unite, A Local Author Festival.

About James McKnight:

McKnight will attend the author celebration with the first two titles from his series.

Yellow & Black Fever-Life, Love and Baseball in the Land of the Rising Sun (Book #1)

A naive American leaves his comfortable life behind to teach English in Japan for a year. Initially overwhelmed with difficulties adapting to the language and culture, he eventually finds true love and a sense of purpose in his work. This motivates him to immerse himself in the fascinating new world that surrounds him. As one year becomes two, and two years become three, he decides that Japan is the right place for him until a harsh dose of reality forces him to make a life decision to stay in his adopted country for the long term or return home.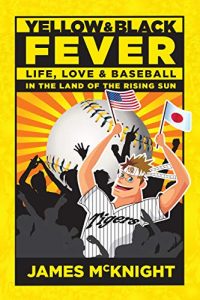 ISBN #9798654982537
Publication date: July 18, 2020
Retail Price $14.99
Bad Foreigner – More Stories of Life, Love and Baseball in Japan (Book #2)
A real-life "Lost in Translation" story of an American struggling to adapt to life, work and love in Japan who eventually finds success and happiness. A unique look at life through the eyes of a foreigner living in the Land of the Rising Sun.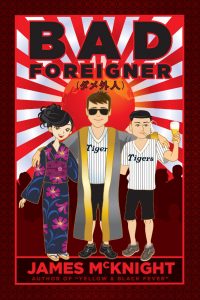 ISBN #9798577280734
Publication date: March 6, 2021
About Tricia Beck:
Tricia Beck has been a passionate advocate of personal and professional development for 35 years as a teacher, trainer, coach, speaker and Founder of Beck Leadership. In her debut book, Mentoring Lifts and Inspires, Tricia draws from her diverse background to support businesswomen in achieving their goals and living a life inspired and full-out.
Tricia has two sons and lives in Tucson, Arizona, where she enjoys outdoor activities of all kinds, from fishing, hiking, sailing, scuba diving and golfing, to gardening. She loves spending time with friends and family and treasures lifelong learning.
Connect with Tricia at LinkedIn and Facebook. To learn more about Tricia's events, programs, and upcoming books, visit her website at https://www.beckleadership.com.
Are you looking to fast track your professional goals? How about discovering a clearer path for career advancements? Or, increasing your self-confidence to the next level?
Whether you're just starting your career, returning to the workforce, changing careers, or striving for promotions or advancements…
Working with a mentor will help you:
1. Take control of your life and dreams
2. Set and complete meaningful goals
3. Grow confidence and belief in yourself
4. Make the most of your hard-earned skills
5. Increase your earning potential
6. Conquer limiting beliefs
7. Gain hope for your future
Imagine if you had a trusted guide who had your best interest at heart, ready to share a vault of personal experiences. Working with a mentor can empower you to go further, faster, with more joy and fulfillment!
In this book, you'll learn:
* What mentoring is, and is not
* Characteristics of great mentors and mentees
* How to find a mentor
* How to create a great mentoring relationship
* The benefits of mentoring programs
* Different mentoring models
Bonus!
Twenty-nine amazing personal stories, from a wide range of women, offer their unique perspectives on how mentoring made lasting impacts in their lives.
About Thomas Wiewandt:
Stemming from a passion for science and art (MS in Zoology, University of Arizona; PhD in Ecology & Evolutionary Biology, Cornell University), Thomas Wiewandt has forged a career in natural history media and owns Wild Horizons Publishing. He lives in Tucson, home of the world's largest Gem, Mineral, & Fossil Showcase. For 34 years, Tom has been photographing many of the finest fossils found in remote corners of the globe, the foundation for this book. 
FOSSILS INSIDE OUT brings fossils, paleoecology, and the fossil industry to life in a beautiful and easy-to-understand format suitable for young adults and older, scientists and non-scientists. This "coffee-table" book is packed with information connecting the past, present, and future of life on Earth.  It also reaches beyond the basics by covering historical perspectives on fossil collecting, laws that can confuse anyone, new imaging technologies, the art of fossil preparation, and how to spot a fake. Most of the imagery (90%) has been selected from the author's personal photographic archive, supplemented by exceptional artwork from outside sources. Paleontologists, collectors, dealers, museums, and artists worldwide have generously helped to make this book possible.
FOSSILS INSIDE OUT is our spin-off from THE SOUTHWEST INSIDE OUT: An Illustrated Guide to the Land and Its History, now in 4th Edition (2014, Wiewandt & Wilks). THE SOUTHWEST INSIDE OUT has sold over 35,000 copies and earned three top publishing honors––a Gold Benjamin Franklin Award; a Gold Independent Publishers Award, and the 2003 Best Book Award across all genres from the Arizona Book Publishing Association. It also won an iParenting Media Award, recognition for the best of the best in children's media (for ages 12+).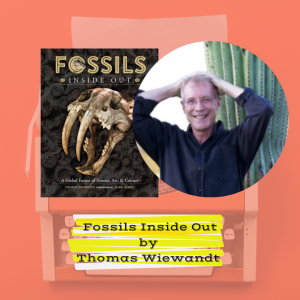 Time

(Saturday) 10:00 am - 12:00 pm
Location

Bookmans Entertainment Exchange Northwest

3733 W. Ina Rd.