30nov7:00 pm8:00 pmCyber Monday Facebook Live Auction!7:00 pm - 8:00 pm
Event Details

Get your keyboard trigger fingers ready and mark your calendars for this one, Arizona! Bookmans stores are doing something brand new to bring you some of the most incredible items in our inventory. And you can buy any of them without leaving your couch!

Join Bookmans on Facebook for our first-ever Cyber Monday Live Auction, hosted by All Puppet Players! Each store will be collecting unique, rare, and must-have items from their inventory to bring you the very best of the best just in time for the holidays! Each item will be broadcast live with as much information as we can provide, and you make your bids. It's that easy to grab something extra-special at Bookmans this year.

Details below for this brand new Bookmans venture, so stay tuned on all of our social media channels for updates. Mark those calendars for November 30, 2020!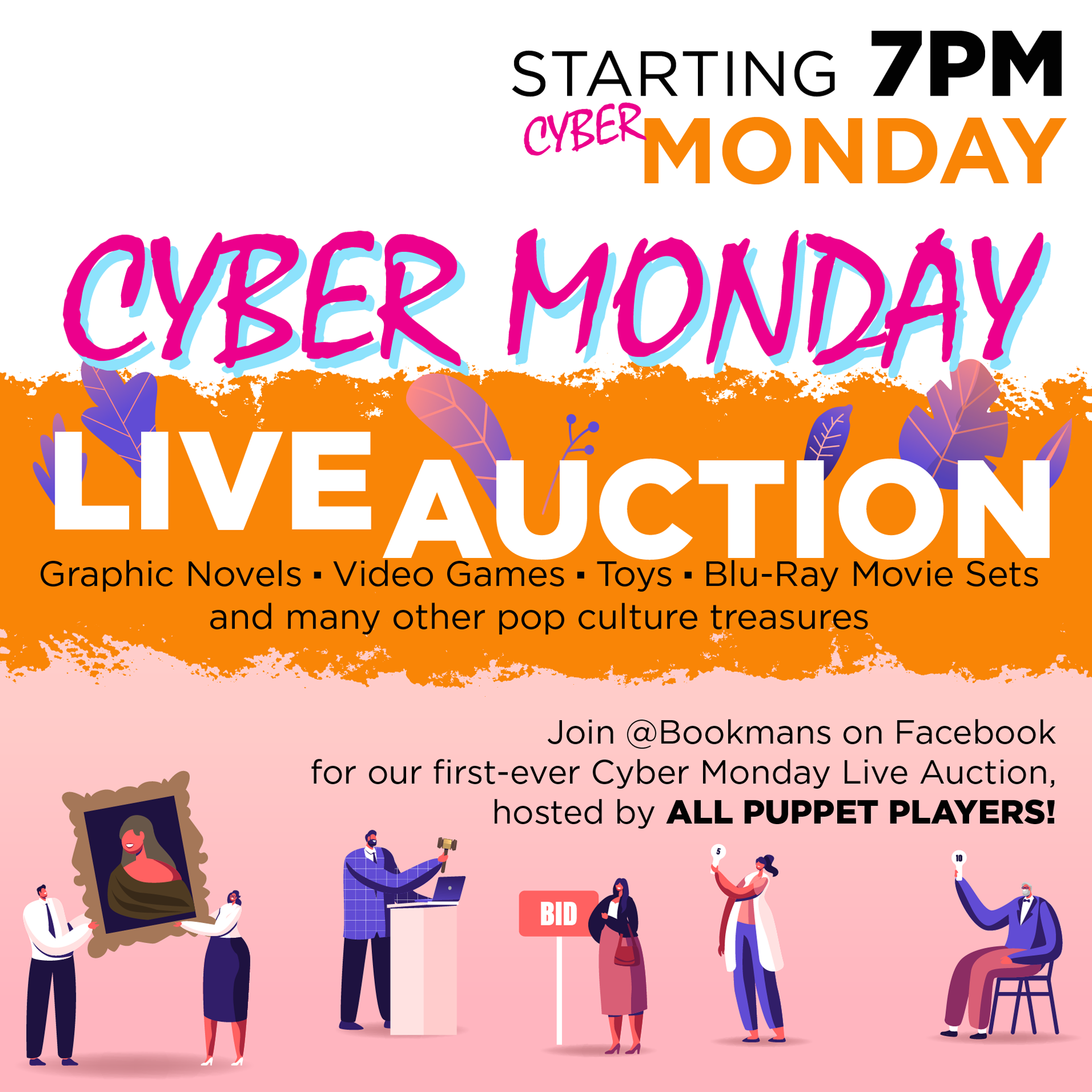 The first-ever Bookmans Cyber Monday LIVE AUCTION is happening TOMORROW, November 30! Get ready to bid on the coolest, most collectible, and coveted merchandise that Bookmans has in stock at all six of our stores. The hilarious Hamlet from All Puppet Players will be our Cyber Monday Live Auction host, and he's going to make this a Bookmans first that none of us will forget. Don't miss your chance to get the perfect gift for yourself or someone you love!
It's all happening on our Facebook page @Bookmans at 7 PM!
This is a Facebook Live auction, so you have to be there to participate. Each store will showcase their items, and all bids will be finalized before moving on to the next item.

Now, some rules to make sure that everything runs smoothly.
RULES: Winning bidders will be contacted immediately following their final bid by a member of the All Puppet Players team on behalf of Bookmans on Facebook. Items must be picked up at the Bookmans location noted in the auction description. NO ITEMS WILL BE SHIPPED OR TRANSFERRED.
All items will be tagged with the winner's name and the winning bid price and held at the Bookmans location of origin. Payment must be made at the time of pickup for the winning bid price. Cash, card, or trade will be accepted as payment for these items. Bookmans will hold onto all items won for up to one week. After that, all winning bids are forfeit and the items will be returned to the store's shelves. Please bring state-issued identification to collect your items so that our staff can safely release them to you. If the items are refused by the winner upon collection, the bid will be forfeit and the items will be returned to the sales floor.
Time

(Monday) 7:00 pm - 8:00 pm