24aprAll DayIndependent Bookstore Day at Bookmans Northwest(All Day: saturday) Bookmans Entertainment Exchange Stores - AZ
Event Details

Bookmans Northwest is celebrating with community partners and local authors! We're teaming up with The National Parks Store in Oro Valley, Treasures for Teachers, and the Southern Arizona Youth and Families Council. Pick up your summer survival bag from Southern Arizona Youth and Families Council from 8:30AM-11:00AM. We're kicking off Teacher Appreciation week early and teachers can sign up for our Project Educate program and pick up a goodie bag with gifts from Bookmans and Treasures for Teachers. 

Plus there are so many ways to be a winner on Independent Bookstore Day(IBD)! Shout out your indie bookstore with a tag and a #bookstoreshoutout and enter our in-store giveaways when you arrive. We'll have all the IBD exclusive merchandise you've been waiting for and it all begins when our store opens Saturday, April 24th at 9AM. Come for the merch and stay for the Local Author Fair featuring a cross section of fiction, comic, and non-fiction authors living right here in Tucson!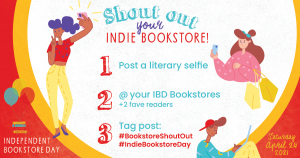 8:30AM-11AM Pick up your Summer Survival Kit courtesy of the Southern Arizona Youth and Families Council
Their family engagement bags are filled with activities for parents and kids to strengthen your family, build resiliency & create a positive environment during the summer!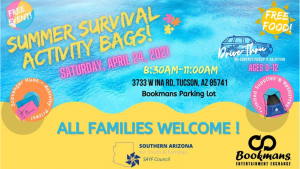 9AM Bookmans Northwest Store opens Independent Bookstore Day begins!
9AM-12PM Local Author Fair Authors TBD
If you are a local author interested in having a table please email northwestevents@bookmans.com.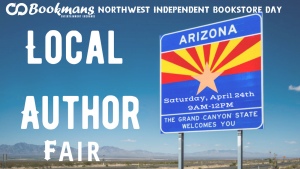 About John Anthony Chihak Soltero:
John Anthony Chihak Soltero is a Tucson native who has been a comic book fan and reader since Junior High School. John began creating characters as a freshman at Tucson High School. He would ultimately create his two longest-lasting characters in Nash and Agnew during his senior year while taking animation.
John's very first comic book, Youth in Asia issue 1, was self-published in 2006. It would be 11 years until the Bubba Patrol saw print. Since that time, the Bubba Patrol has been the main focus of this creator. The fourth and fifth issues, ending the first story arc of the Bubba Patrol will arrive in late 2021.
The Bubba Patrol is an all-ages comedy adventure, featuring John's dogs as superheroes. But their greatest assets aren't their powers. It's their heart and the reality that they're powered by hope.
About Thomas Wiewandt:
FOSSILS INSIDE OUT brings fossils, paleoecology, and the fossil industry to life in a beautiful and easy-to-understand format suitable for young adults and older, scientists and non-scientists. This "coffee-table" book is packed with information connecting the past, present, and future of life on Earth.  It also reaches beyond the basics by covering historical perspectives on fossil collecting, laws that can confuse anyone, new imaging technologies, the art of fossil preparation, and how to spot a fake. Most of the imagery (90%) has been selected from the author's personal photographic archive, supplemented by exceptional artwork from outside sources. Paleontologists, collectors, dealers, museums, and artists worldwide have generously helped to make this book possible.
FOSSILS INSIDE OUT is our spin-off from THE SOUTHWEST INSIDE OUT: An Illustrated Guide to the Land and Its History, now in 4th Edition (2014, Wiewandt & Wilks). THE SOUTHWEST INSIDE OUT has sold over 35,000 copies and earned three top publishing honors––a Gold Benjamin Franklin Award; a Gold Independent Publishers Award, and the 2003 Best Book Award across all genres from the Arizona Book Publishing Association. It also won an iParenting Media Award, recognition for the best of the best in children's media (for ages 12+). 
Stemming from a passion for science and art (MS in Zoology, University of Arizona; PhD in Ecology & Evolutionary Biology, Cornell University), Thomas Wiewandt has forged a career in natural history media and owns Wild Horizons Publishing. He lives in Tucson, home of the world's largest Gem, Mineral, & Fossil Showcase. For 34 years, Tom has been photographing many of the finest fossils found in remote corners of the globe, the foundation for this book. 
About Gayle Petrillo:
Tucson resident Gayle Petrillo, known to many as a bright, active entrepreneur, consultant, and career coach, has decided to share her story with the world. Most who know her would find it hard to believe that she has ever had a moment of self-doubt or fear. Her outgoing, confident personality belies the fact that as a young child, an accident changed the course of her life. She has shared her story in a wonderful new book, The Accident. Gayle's personal story of emotional healing, courage, and success in overcoming the trauma of physical and emotional scars she experienced at the age of 3.
The Accident captures the sweet, bubbly personality of Gayle as a preschooler. Her biggest care is that her pink ribbon is still on her barely- there ponytail under her favorite hat. She's off with her mom to a grown-up tea party, with a stop along the way to play in a pile of autumn leaves. Her life will soon be shaped by a terrible accident.
The author shares her compelling, uplifting story from that fateful day to the present as a confident adult who wants to share with others how she created her own extraordinary journey to personal and professional success – through determined self-care and transformation.
A chapter book for adolescents, teens, and their parents, this inspirational book offers insight for readers facing self-confidence growing pains, and particularly for those who have suffered emotionally and/or physically as a result of a traumatic experience.
About Al Petrillo:
Historical Mystery/Thriller author will be offering his three novels:
A Case of Dom Perignon was published in July 2016
Asylum Lane was published in April 2014
Full Moon was published in January 2005
About John Witter: 
Wonderwerk Man Book 1 of the Unintended Consequences Concatenation
Shadows of the past return to challenge the present as a chain reaction of events unfolds. The world is introduced to a newborn artificial intelligence with questionable motives for humanity. Extraterrestrial lifeforms emerge from hiding among us. Mysterious figures step out of the mists of antiquity, rekindling an ancient conflict that threatens the planet. The struggle to respond to these events changes the lives of those swept up in the brewing storm where scientific boundaries are challenged, and a new reality dawns on modern existence; humans are no longer the dominant species on the planet.
The novel is an alternate reality/ science fiction look at the nature of humanity, from species origin to present. The story examines the various histories, constructs, and circumstances that face our species. The reader is introduced to a series of characters that represent a facet of reality, from religion to nature, the role of family, the importance of history, and the struggle to adapt to an ever-changing world. The interplay of these forces drives the story and presents the reader with different perspectives as the consequences of decision-making lead to a surprising end. 
Bookmans Northwest is committed to visitor safety and is following Centers for Disease Control and Prevention guidelines regarding COVID-19. All in-person attendees at Bookmans Northwest over the age of five will be required to wear masks, and social distancing will be enforced. The number of people allowed in the store and event space will be regulated, so attendees may be asked to wait outside on a shaded patio before entry. 
THANK YOU TO OUR PARTNERS!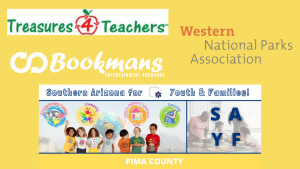 About Independent Bookstore Day
Independent Bookstore Day is managed by the American Booksellers Association and held the last Saturday of April. Learn more at www.indiebookstoreday.com.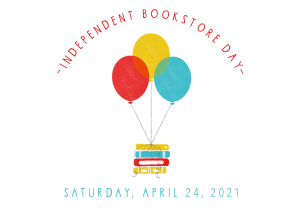 Location

Bookmans Entertainment Exchange Stores - AZ