Bookmans founder Bob Oldfather never expected to go into retail. "I was going to be a mechanical engineer," he says. "I never thought about being in retail." But at the pivotal age of 25, a move back to Tucson from Colorado led to a fateful visit to his father, who owned and operated Livingston's Used Books at the corner of Broadway and Tucson Boulevard.
"I hadn't seen my dad in quite a few years, so I stopped in to see him, and I just hung out. He had this little store – I don't think it was over 2,000 square feet, maybe 1,500 square feet. It was mostly paperbacks and some magazines." The store didn't even have a cash register, just a small metal box to make change. The money was pocketed at the end of the night. "I liked that," Bob laughs.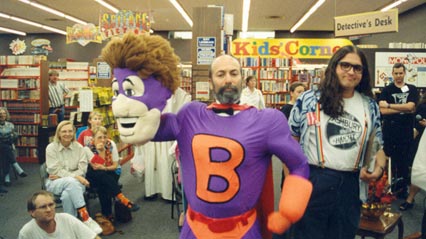 After working in the shop for about a year, Mr. Oldfather's dad decided Tucson had gotten too big. "He wanted to move to Sierra Vista – and I said I'd buy the store." So his dad sold him the store and its inventory for one dollar. Bob did not get the name however and so "Bookmans" opened its doors in 1976 – the year Donny and Marie premiered on television and Helter Skelter topped the bestseller lists.
| | | |
| --- | --- | --- |
| | | |
"I think the fact that I didn't know anything about bookstores actually worked in our favor. Because I didn't have preconceived notions of what a store should be, I was able to engineer my own concept of what I wanted." An organic "why not?" approach, and adaptability to the needs of customers, soon led to buying and selling more than used paperbacks and magazines. Bookmans' music department was born after a regular customer's turntable was stolen and the unlucky individual wanted to unload an entire LP collection. An Atari 2600 at the bottom of another customer's box of books led to dealing in video game systems.
The people that worked in the store, and the people that shopped there, began to mold it into what they wanted. I was just the facilitator, and I still feel the same way.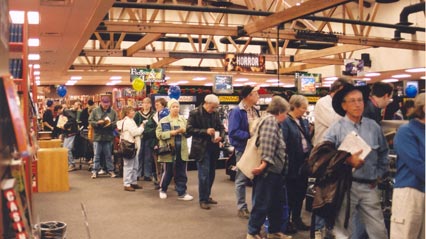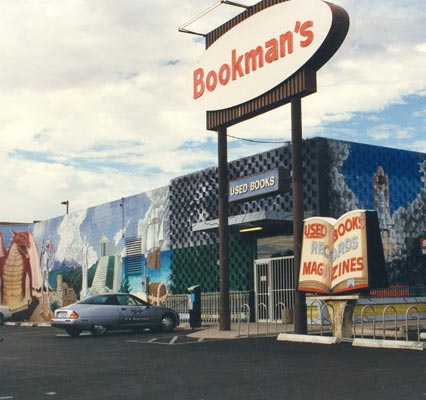 Bookmans expanded as the surrounding shops at Tucson and Broadway moved out from time to time, eventually occupying all but two spaces in the original building. But growing physically didn't necessarily equal growing business. Advertising on television wasn't the norm for any bookstore, let alone a used one, but a friend who was an advertising agent pushed Bob to make a commercial anyway. "He said, "You're just the kind of weirdo that'll do good on TV,'" he remembers with a laugh. The reaction to those first ads was immediate and overwhelmingly positive, and the fedora donned for the camera on a whim became synonymous with the store. (Watch Bookmans commercials throughout the years.) Bookmans TV on YouTube By 1986, with Broadway widening and the store's original building set to be demolished, Bookmans took a gamble on an empty Food Giant grocery store at the corner of Grant and Campbell. At three times the rent and a much bigger size, the move was an intimidating prospect, both literally and figuratively. But with the help of biker buddies, and even customers who carried over boxes of inventory for trade credit, the store was able to remain open throughout the moving process. Some things have been shuffled around since then, but you can find many of the bookshelves from our original location in our Grant and Campbell store.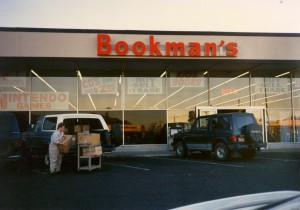 Over 40 years later, with six stores in three Arizona markets, Bob's creativity and willingness to take risks remains the driving force behind Bookmans. "I would love to say I had this grand vision, that I knew it was going to be successful. But it was never about money. Ever. I just wanted a cool place for me to hang out."