Keanu Reeves Movies? Excellent!
Any plans for this weekend? Other than heading over to your favorite Bookmans location for Independent Bookstore Day that is? Maybe you are one of the lucky few to get your hands on a pass to Glasgow, Scotland's finest sold out film festival, KeanuCon. That's right. That's Keanu as in Keanu Reeves.
This weekend, Matchbox Cineclub, "an independent exhibitor for cineoutcasts, orphans, and outliers," will be showing eleven movies that showcase Keanu's wide-range over two days ending with Destination Wedding, his most recent film with repeat co-star and possibly legal wife, Winona Ryder.
One Step Away (Robert Fortier, 1985)
Permanent Record (Marisa Silver, 1988)
My Own Private Idaho (Gus Van Sant, 1991)
Speed (Jan de Bont, 1994)
The Matrix (Lana Wachowski, Lilly Wachowski, 1999)
John Wick (Chad Stahelski, David Leitch, 2014)
Man of Tai Chi (Keanu Reeves, 2013)
Constantine (Francis Lawrence, 2005)
Bill & Ted's Excellent Adventure (Stephen Herek, 1989)
Bill & Ted's Bogus Journey (Peter Hewitt, 1991)
Destination Wedding (Victor Levin, 2019)
So, if you're like me and you will, unfortunately, not be available to attend this most glorious of weekend events, you are probably planning on doing your own mini-movie marathon. With a line-up like this, you'd be crazy not to. I will, of course, be adding Bram Stoker's Dracula and the rest of the Matrix trilogy. But, in the meantime, here are five quotes from my favorite Keanu movies to tind you over.
The Matrix
Neo: I know kung fu.
Morpheus: Show me.
Bill & Ted's Excellent Adventure
Ted: All we are is dust in the wind, dude.
Bill: Dust. Wind.
Ted: Dude.
Socrates: (in Greek) Yes! Like sands in the hourglass, so are the days of our lives.
Point Break
Ben Harp: NO! No no no no no no NO! Let me tell you what you've produced… Over the last two weeks, you two have produced exactly squat! SQUAT! During which time, the Ex-Presidents have robbed two more banks! Now for Christ's sake, does either one of you have anything even remotely interesting to tell me?
Johnny Utah: I caught my first tube today…sir.
Constantine
Chaz Kramer: [last words] You're right, John. It's not like in the books.
John Wick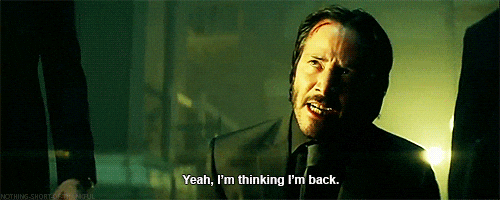 John Wick: People keep asking if I'm back and I haven't really had an answer, but yeah, I'm thinking I'm back.