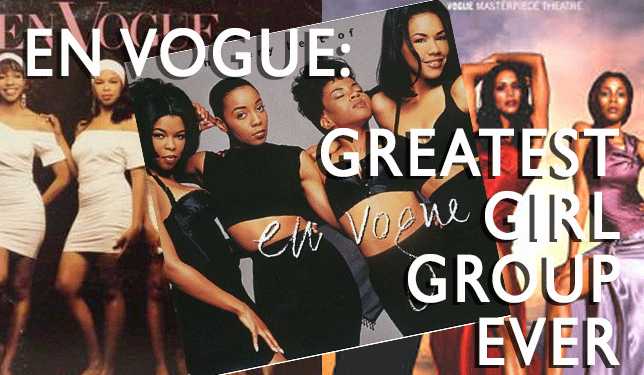 En Vogue: The Greatest Girl Group Ever. A Thesis.
If I asked who was the greatest girl group to grace charts who would you say? The Spice Girls? Love 'em. What about The Supremes? Classic, obvi! Destiny's Child? Listen, it's Queen Bey's world and we are all just lucky to breathe the same air. Danity Kane, The Pussycat Dolls, TLC, Little Mix? All kickass ladies slaying stages worldwide. But no, none of these total music babes are the band we are here to discuss today. Who is, then? If you're asking me, En Vogue is hands-down the most talented, most fierce collection of female vocalists that has ever played on your radio. And let me tell you why.
The Vocals

En Vogue was formed with the intent of gathering four equally talented singers to create one all-female supergroup. In most pop ensembles you have one center performer, a Justin T, a Beyonce. Even the Spice Girls had two major soloists, Sporty and Scary Spice.
En Vogue debuted with four original members Terry Ellis, Dawn Robinson, Cindy Herron, and Maxine Jones. Each one was as talented as the next. The concept was that these performers provided uniquely strong voices that could take the lead interchangeably but also be part of an ensemble.
Do you know how it's a truth universally acknowledged that no one and I mean NO ONE should cover Aretha Franklin? Well, in 1992, En Vogue covered Giving Him Something He Can Feel and the song legit delivers. It may even be better than the original. Yeah, it's better.
The Videos
Formed in 1989 after each member answered a newspaper ad looking for singers, En Vogue's first album, Born To Sing, went certified platinum. It included singles like Hold On, reaching number 1 on Billboards Hot 100 R&B chart. But it wasn't until their follow-up album, Funky Divas, that the group really found their video voice. Funky Divas gave us hits like My Lovin' (You're Never Gonna Get It) with sassy dance moves and a sparkly dress I need in my closet, stat! Giving Him Something He Can Feel gave us all the feels. The red dresses and cool classic Hollywood feel and the award-winning Free Your Mind video is a powerful collection of imagery that doesn't just ask but demands that you pay attention.
The Content

In 1993, En Vogue released Whatta Man with Salt N' Peppa and we and karaoke nights everywhere are better for it. Unlike other "love songs," Whatta Man is all about appreciating your partner for being steady, respectful, and above all else, having a body like Arnold with a Denzel face. En Vogue gave us strong independent lady anthems long before Destiny's Child's Bills Bills Bills or TLC taught us what a scrub was.
Free Your Mind, though a total bop, was a song about people's prejudices. Tasking its audience to let go of preconceived notions and stereotypes of others against a funky rock heavy backdrop, it rules. En Vogue's songs didn't tiptoe around subjects. If they wanted you to feel empowered with your partner they released Giving Him Something He Can Feel. If they wanted to tell the haters to back off, they released Free Your Mind. En Vogue did not make a habit of holding back.
En Vogue went on to release more albums. Members left and returned. The original four members recently went on tour, released another album and were even featured on Chance The Rapper's album The Big Day in 2018. Even though they are not as prominent as they were in the 1990s, En Vogue is the girl group to strive for. En Vogue has a huge catalog of hits and I could only mention a handful, so please spend a day on YouTube or pick up some En Vogue albums from your local Bookmans and educate yourself.
1 Comment
Comments are closed.