Ten Days of Summer Movie Fun with Loft Cinema Kids Fest
What if you were able to enter the world of Trolls, come back Home, and learn How to Train Your Dragon in just one weekend? Well, this weekend you can at The Loft Kids Fest! And that's not all the festival is happening Friday, July 20thto Sunday, July 29th. The Kick-off Party begins at 6 pm tonight, Friday, July 20th at Himmel Park. Trolls the movie will screen outdoors starting at 8 pm.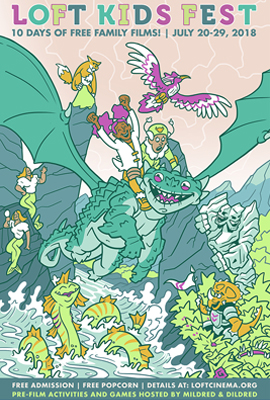 At the Kick-off party be sure to visit the Bookmans tent to enter to win movie-themed prizes. You can also patriciate in two crafts, make a dinosaur fossil (Walking with Dinosaurs will screen Monday, July 23rd at the fest) and a "soot sprite" those little creatures from Studio Ghibli movies Spirited Away (Saturday, July 28th) and My Neighbor Totoro.
We'll also have a Disney fairytale-themed photo booth set up for some imaginative play. The live-action version of Beauty and the Beast is showing Sunday, July 29th. Many other local organizations will be in attendance at the kick-off party with activities and freebies. Plus, there will be food trucks!
Over the ten days of the festival, you and your family can come to the Loft at 9 am for pre-show activities provided by Mildred and Dildred. Bookmans prizes will be available before each show so be sure to catch us Monday at the screening of Walking with Dinosaurs and Tuesday for Revolting Rhymes for a chance to spin the Bookmans prize wheel.
The movies begin at 10 am with an additional screening at 11 am each day of the festival. Plus, the Loft is offering free popcorn! The Loft Kids Fest is in its 12thyear of fun! Bookmans is also proud because we sponsor this entirely free and unabashedly local event. The fun continues across the street at Bookmans Midtown! There will be a movie-themed prize hidden in the store each day.
Tune-in to Instagram and Twitter (@BookmansTucson) every day of the festival at 11 am. We will post some trivia about the film and an update about the hidden prize. If you're the lucky winner of the daily scavenger hunt you can use the #BookmansWinner on social media. Plus, we are offering film fest attendees $1 off their purchase! Just show your ticket at the Bookmans' register for the duration of the festival.
On Saturday, July 21st you can meet children's book writer and illustrator Adam Rex, author of the True Meaning of Smeckday based on the movie Home showing that day. Then on Sunday, July 22nd settle in for the high-flying and heartwarming adventure How to Train Your Dragon 2. And that's just the weekend.
The festival goes until Sunday, July 29th with two screening per day. During the week you can introduce your kids to classic films. Looney Tunes on screen is Friday, July 27th. Along with a couple of nostalgic favorites that were once books like The Neverending Story (Wednesday, July 25th) based on a book by Michael Ende, and The Last Unicorn (Thursday, July 26th) also based on a book by Peter S. Beagle. We hope you and your family can join the Loft Cinema and Bookmans for this fun-filled event.