Ultimate Movie Party: Marie Antoinette
Do you think that a truly great party deserves time, effort, and all you can give it to make it the best night ever? If you're one to go above and beyond to show your friends a good time, this Ultimate Movie Party is for party royalty. Marie Antoinette, like the woman herself, is not without its flaws, but man does it make for a great party movie. Here's why Marie Antoinette should be your Ultimate Movie Party choice. On y va!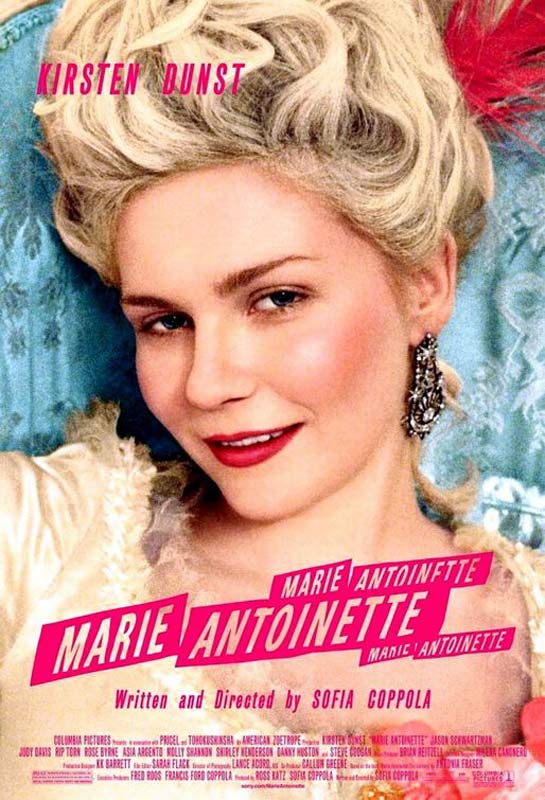 Can you imagine anything more sinfully decadent and visually-striking than 18th-century Parisian high society? In the upper echelons of Paris, one woman stood out amongst the crowd as a taste-maker, a curator of haute couture, and a style maven. Marie Antoinette, for all her ills, is remembered today for her boldness and c'est la vie attitudes about fashion, food, and partying. It is no surprise that another standout woman, director Sofia Coppola, would make Marie Antoinette the subject of one of her most elaborate, gloriously over-the-top and audacious films to date.


Marie Antoinette, Sofia Coppola (2006)
France's most iconic queen, Marie Antoinette, is the subject of Sofia Coppola's modernist period piece. The life of Marie Antoinette, wife of King Louis XVI, from her engagement through her infamous final months as queen, is utterly fascinating. Coppola's vision for this iconic, extravagant queen, famous for flaunting her raucous lifestyle while the people she ruled suffered, is just as sugar-soaked and extraordinary as the queen herself. That is, of course, until the fall of Versailles.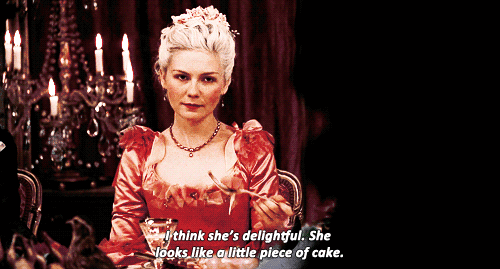 Party Like It's 1792
It may not be the easiest party to convey in an invitation, but if you are going to party like Marie Antoinette, you had better prepare to make absolutely everything about your party lush, sumptuous, and ornate. Party attendees, at any time, should be encouraged to dance, nap, eat, or play at their leisure. And yes – OH HELL YES – indulge their inner party monsters for this special occasion.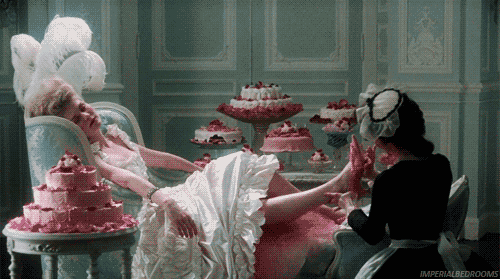 Set the Scene
There's no easy way to say "turn your home into a palace," so I'm just going to say it: Turn your home into a palace! Shiny gold, silver, neon, bright pastels, heavy patterns – anything and everything that makes you think you've gone way above and beyond your tasteful sensibilities should be center stage. You certainly don't have to be a millionaire to pull it off either. Easy, cheap, DIY photo backdrops like these are the perfect way to make a bold statement.
It's seldom that a party invitation should say guests can look forward to a lounge-worthy good time. However, for the sake of really channeling the pre-Victorian Era Parisian royalty lifestyle, you may want to encourage your guests to bring their own pillows, lounge chairs, and hammocks. If you're going to party like a queen, you're going to need to crash like a queen too!


Dress to Impress a Queen
What would high society functions be if everyone didn't indulge in fashion-forward cheekiness? Whether it's tuxedos and ball gowns or a pajama soiree, your Marie Antoinette movie party should be all about being as fab as you can be. Let's just say that if you own a pair of Shoe Bakery's confectionary heels, this party is the time to bust them out and show them off. And pajamas or not, 18th-century wigs are always a good call (even if they're made of paper). Masks, mini hats, feathers, corsets, and parasols will keep the party in fine Parisian fare, but that doesn't mean that you can't go modern AF with it. Hell, even Coppola knew that when she hid these candy-colored Converse in Marie Antoinette.


Entertainment
The great news is that entertainment is built into this party. If the music is pumping, the food is flowing, and the phones are snapping hundreds of pics of everyone's costumes, you are already doing an excellent job of entertaining. A Marie Antoinette party should be like a French salon, buzzing with discussion, movement, and face-to-face interaction. In addition to actually watching the movie, you certainly don't want to miss the opportunity to play socializing games that keep everyone laughing, like Who Am I or Cards Against Humanity.
If you haven't already been floored by the Marie Antoinette soundtrack, you're going to want to cue it up for your shindig. A 2017 NYLON magazine article says it "captures what it's like to be a millennial." Swoon!


Food and Drinks
Is there anything more Marie Antoinette than cake? If it has fat, sugar, and is the kind of food that you normally avoid eating, serve it. Tell your guests to leave their veggie trays at home. This party is 7-layer dip in a trifle bowl or nothing at all. Decadent cakes, pastries, tarts, truffles, mousses, macarons, bread, cheeses, oil, pates, steaks, scallops, and quail eggs are all par for the course. And do keep it coming! But don't think that this hoity-toity food is the only way to indulge. Bust out some Ben & Jerrys, microwave plate after plate of Bagel Bites, and bust out those chips and feel like royalty in your own way.


Like the food, the drinks should not stop flowing. Champagne doesn't have to be your go-to drink, but no matter what you serve, make your guests feel fancy as hell while they drink it. BTW, have you tried a chocolate-flavored wine yet? This might be the ideal time to make a wine run!


When in doubt, remember the iconic words of Marie Antoinette herself: