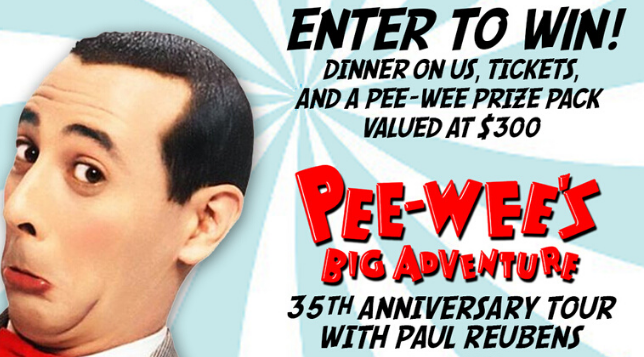 Bookmans Big Adventure Giveaway
It's the heartwarming tale of a lone rebel who travels the country in search of his beloved stolen bicycle.  In 1985, comedian/ actor/ author Paul Reubens brought to life his eccentric, and unforgettable character of Pee-wee Herman, to the big screen with his co-written "Pee-wee's Big Adventure."  Hailed as a critical and financial triumph, this magical blend of family fun takes you on a road trip that has grossed over 40 million domestically, spawned multiple sequels, as well as Saturday Morning's Pee Wee's Playhouse. (A celebrated series that earned 22 Emmy® Awards during its five-year run. Reubens has personally been nominated for 14 Emmy® Awards, with two wins.)  The film has gone to become an instant multigenerational midnight cult classic. To celebrate its 35th anniversary, Pee-wee is once again hitting the road. This time on a multi-city American tour with a special screening followed by Reubens in-person sharing stories from behind the scenes and making of the film.
Being one of our favorite films we can't help but want to celebrate as well. We want to send YOU on your own adventure. Anytime between February 16th and February 23rd, stop into our MESA or PHOENIX locations only and enter to win the Bookmans Big Adventure giveaway! This geeking out grand prize package will have you saying so long to Dottie and petting Speck goodbye for the evening with (2)  tickets to the 35th Anniversary Tour of "Pee-Wee's Big Adventure," featuring Paul Reubens March 7th at the Arizona Federal Theatre. Showtime is at 7:30 P.M. Dinner that evening will be included on us. You'll also be able to create your own playhouse at home with a Pee Wee inspired gift basket valued at over 300.00! Winner will be announced on Wednesday, February 26th.
Shhhhh! You're listening to reason. What are you waiting for? Whether traveling via, car, bicycle, train, or semi-truck stop into Bookmans Mesa or Bookmans Phoenix and get entered for your chance to win.  Ask any store associate for assistance.
"…..and tell them Large Marge sent 'ya".