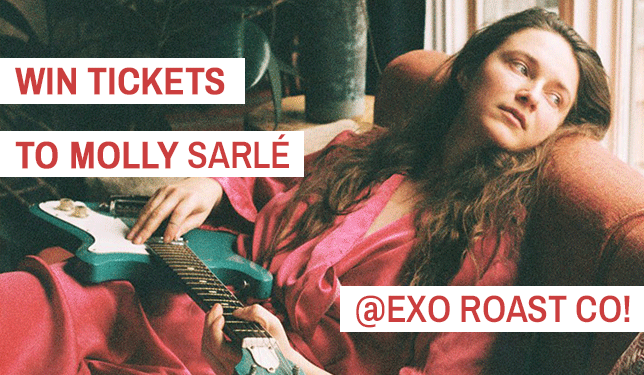 Winner Wednesday: Molly Sarlé!
It's Winner Wednesday, everyone! We've got TWO TICKETS to catch singer-songwriter Molly Sarlé with special guest Chelsey Trejo, presented by Bookmans, at Tucson's El Crisol Bar/Exo Roast Co on Monday, February 17!
"From the cliffs of Big Sur to the North Carolina backwoods — Molly Sarlé brings open-hearted, unflinching songwriting perfect for late-night karaoke comedowns, plaintive morning walks, and conjuring the spirit world. West Coast incantations with a warm, Appalachian glow.
Her debut LP (due out in 2019) is a collection of songs by a woman who was born understanding that her ability to feel — deeply and without shame — is her greatest strength. It is the result of a free and open-hearted devotion to the search for passion, and the complete, unwavering depiction of truth. Molly's songs observe their own kind of internal logic, always a few steps behind or ahead of where you expect them to be — occasionally funny, always uncannily real."

Chelsey Trejo (Tucson, AZ)
Chelsey Trejo is a local Tucson musician focusing on the intersections of midcentury psychedelic folk, traditional styles, and ambient soundscapes with an emphasis on American Primitive guitar.
Doors at 7. Show at 8. Get $15 advance tickets HERE
Want to win 2 tickets to see Bookmans Presents: Molly Sarlé w/ Chelsey Trejo at El Crisol Bar? To enter to win, comment below and tell us: Which singer-songwriter would you love to see in a live performance?
We will choose one winner at random on Friday, Feb 14, 2020. Check those emails after 2 PM to see if you're the lucky winner!
*Comments are not automatic and may take time to appear. One entry per person.
3 Comments
Comments are closed.