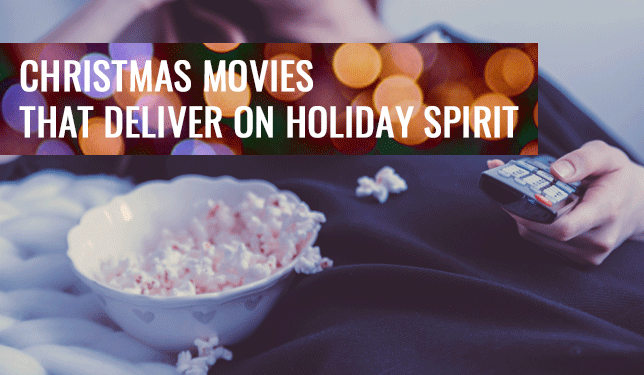 Christmas Movies That Deliver on Holiday Spirit
When I was little, my family had a tradition to wait till the very last week before Christmas to watch all our favorite holiday movies. Now, less than a week before the big day, I am feeling very nostalgic. Here are my top five favorite holiday movies.

Buddy's Musical Christmas
"Buddy the Elf, what's your favorite color?" I have seen the movie Elf more times than the number of fingers and toes I have. No kidding, I can recite the entire movie from beginning to end. Did you know that they made this glorious movie into a stop-motion animated musical? If you haven't watched it, this movie is an absolute must-see. Buddy's Musical Christmas is charming, hilarious, and full of holiday cheer. One of my favorite tunes from the soundtrack is Sparklejollytwinklejingley. Featuring famous voices like Jim Parsons, Kate Micucci, and the one and only Mark Hamill, this movie is the perfect way to get into the holiday spirit.

Gremlins
I am a huge fan of unconventional holiday movies and that's why Gremlins makes this list. Christmas movies are notorious for being extremely cheesy and Gremlins is the complete opposite. Nothing says the holidays quite like melting, burning and blowing up evil gremlins. If two Gremlins films aren't enough, don't fret! According to a recent interview, there is a third Gremlins script that exists and rumors of a prequel tv series called Secrets of the Mogwai have been spreading like wildfire. Until then, keep your Gremlins VHS out of the water, and don't play it after midnight.

How the Grinch Stole Christmas
"Am I just eating because I'm bored?" Jim Carrey's How the Grinch Stole Christmas is one of those movies we would watch over and over again when I was little. Even during the rest of the year, my family will randomly quote the movie. Jim Carrey has always been a favorite actor of mine (especially The Mask movies), so of course, his version of How the Grinch Stole Christmas makes this list. The story of the Grinch is a classic one and I laugh so hard every time I watch this movie, holiday time of year or not.

Die Hard
The age-old question, is Die Hard a Christmas movie? I'd say yes, it most certainly is! This movie is just about as unconventional as it gets. It's always a good day to die hard and we challenge you to test your Die Hard knowledge with our Die Hard trivia. Die Hard has so many memorable moments and even more memorable quotes! Your holiday celebrations can be action-packed. It's totally cool. 
Yes Virginia
Holding onto the magic of the holidays is something we all try to do, even as adults. Based on an editorial from the New York Sun from 1897, Yes Virginia follows the true story of a little girl named Virginia O'Hanlon who embarks on a quest to prove that Santa is real. The response given to Virginia's question is so very heartwarming. Starring Neil Patrick Harris and Jennifer Love Hewitt, this animated short film brings me to tears every time I watch it.
Need to get your last-minute holiday shopping done? Stop by a Bookmans near you and get it all done in one trip.