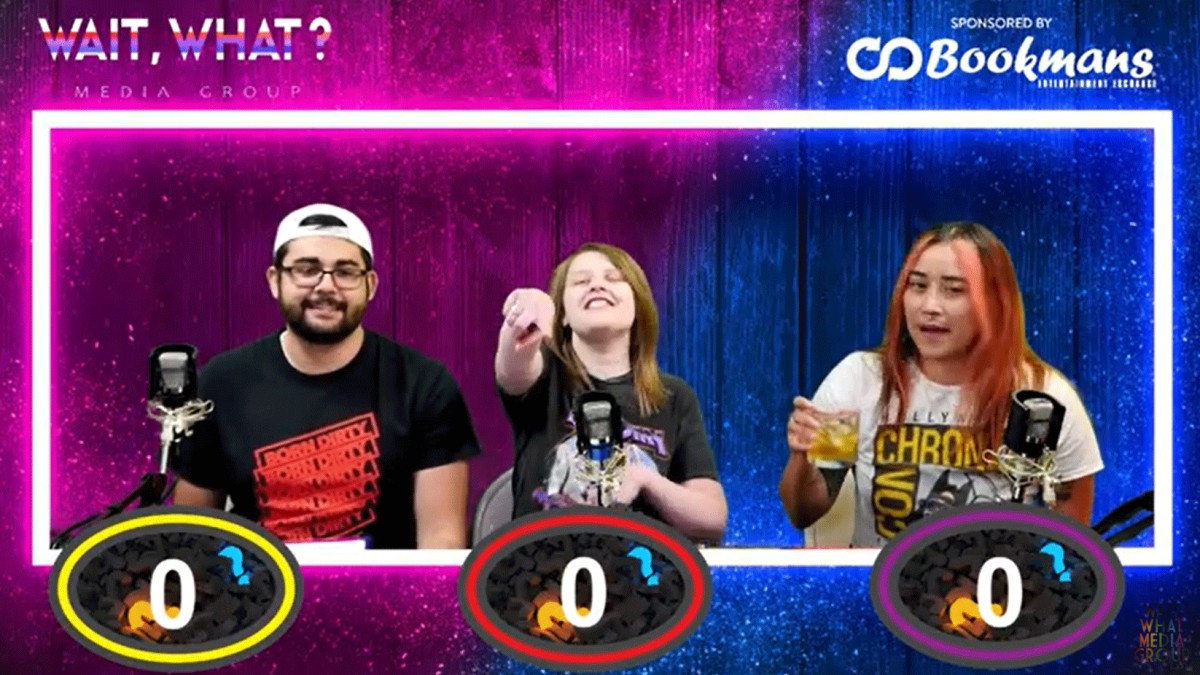 Wait, What? Trivia!
One of my absolute favorite things about working at Bookmans is being able to turn my hobbies into my job. From hosting book clubs, weekly rounds of Dungeons and Dragons, and talking to customers about everything from TV shows to the latest R&B album that dropped last Friday, I am constantly fostering my love of all things nerdy and pop culture. Recently, I've had the opportunity to develop another one of my loves–video games.
If you've been paying attention to Bookmans Midtown's social media, you've probably noticed the increasing amount of live streaming we've been doing with our partners Wait What? Media Group. Bookmas is a proud sponsor of everything Wait What? Media Group has been up to over the last year and you may even recognize their name from the Super Smash Bros. Tournaments we've previously hosted at our location, the year's Record Store Day DJ events, and last year's Tucson Comic-Con gaming room.
Every Friday evening starting at 6 PM, I have been getting together for party games and trivia with the Wait What? team. You can catch our previous streams like Marvel Trivia Parts One and Two, Disney Princess Trivia, Halloween Movie Trivia, and playthroughs of the Dark Pictures Anthology (Man of Medan and Little Hope) where you can witness the beginnings of #TeamTaylor (copyright pending) on Wait What? Media's Youtube.
Since its conception during Little Hope, Team Taylor (also known as SKAMY) has branched out into its own endeavors. You can now find Sam and I live streaming on Tuesday nights (starting at 6 PM) playing our new favorite game, Marvel's Avengers. And while Team Taylor tends to say the same thing at the same time and throw controllers at each other while battling it out over pop culture knowledge we take the job of superhero very seriously. However, we don't always agree on who to play. Welcome to Team Taylor's first official fight and our rankings of the best characters to play.
#7
Kay & Sam: Hulk (Bruce Banner)
S: I don't like him. He's supposed to be the tank, but he can't take a hit. People keep telling us that he'll get better, but I haven't seen that yet.
K: I won't lie, I sort of like the fact that he literally pulls concrete out of the ground to throw at targets… but, his HARM mission (tutorial round) took me so long that I almost threw my controller out the window out of rage. KAY SMASH.
#6
Kay & Sam: Iron Man (Tony Stark)
S: I like the flying mechanics because it's a lot like Thor. I also like his lasers and rockets, however, compared to everyone else he just isn't my favorite. That's about it.
K: I hate flying. If I do have to use Iron Man, I will keep him on the ground, I just can't do it. But, his lasers and rockets are pretty cool. (laser sound effects from Sam)
#5
Sam: Black Widow (Natasha Romanoff)
I like her character mechanics, she's a lot like Cap with her melee skills. However, I don't like her guns (I'm sorry, Kay). For the way I use a character, she just doesn't work for me. Her skill "Widow's Bite" is a good power, but I didn't figure it out fast enough and then Cap came along.
Kay: Thor (Thor Odinson)
Again, I don't like flying. Honestly, if Thor wasn't as strong of a character he would be lower on my list because I do not get his hovering whatsoever. The hammer is really cool though. As someone who typically relies on ranged attacks while Sam runs headfirst into the danger, being able to throw "Mew-Mew" is handy.
#4
Sam: Ms. Marvel (Kamala Kahn)
I don't play healers. So, for a character who is responsible for making sure to press "Hero's Spirit" to heal everyone that is a lot of pressure. She's still high on my list because she can play as a tank, so I can run into danger and still take care of myself. Also, she's kicks serious ass.
Kay: Captain America (Steve Rogers)
I'll give it to Steve, that is America's ass. However, screw his double jump. I am way too twitchy of a player to be able to correctly and precisely get his jumping mechanics down. His part of the campaign took me so long the game asked if it should lower my difficulty. Humblebrag. He's a great character though and so long I don't have to jump crazily over a few ledges or else fall to my doom, I'm good.
#3
Sam: Thor (Thor Odinson)
He has lightning. I mean, come on, that's a cool power. He's a super-strong character, which I like says I tend to run into danger and I'm okay with his flying mechanic (which I think works better than Iron Man's) because you can at least attack while flying. Oh! The Bifrost power! That's amazing too.
Kay: Ms. Marvel (Kamala Kahn)
Kamala is one of my favorite Marvel characters ever (besides Spider-Man, *cough* Tom Holland, heyyyy). I've been in love with her story since her comics first came out. She's super powerful but still a support character which is right in my wheelhouse.
#2
Kay & Sam: Hawkeye (Kate Bishop)
S: *Heavy sigh* For being a brand new character, I was expecting a lot of flaws and mechanic failures, but surprisingly she's an incredible character. She works a lot like Natasha, so she has the things I like about Black Widow, but her shooting mechanic works a little bit better. Her ultimate attacks are very well created. Her decoy works really well and captures a lot of attention, thus leaving room for you to attack everyone with her amazing katana. There you go, she's amazing.
K: *Heavier sigh* (Sam: You had to one-up me, really?) As Sam said, Kate was a surprising addition to the game with her DLC. Her mechanics are very similar to Black Widow, which made me automatically fall in love with playing her. I'm a sucker for a bow and arrow, so her ranged attacks are amazing. I'm still getting used to them, so my aim isn't perfect yet, but I'm working on it. But, she quickly became my second favorite.
#1
Sam: Captain America (Steve Rogers)
America's ass. Need I say more. I must. Okay, Steve Rogers. He double jumps, I've played many games that utilize the double jump like Prince of Persia and (stares blankly at Kay)…others. I love his melee mechanics, especially the use of the shield because he punches people with it and then does an acrobatic kick as an add on. He can throw the shield and immediately boomerang it at everyone. His ultimate attack "Brooklyn Brawler" actually makes you a little invulnerable for a minute which is helpful because I'm always the tank. Love him. Adore him. Play him.
Kay: Black Widow (Natasha Romanoff)
Russia's ass. Need I say more? I must. (Sam: You're stealing all my best lines!) Seeing as Sam is usually getting lost on my screen as she double jumps away to find danger, Black Widow is the perfect companion and also my favorite character to play. She's quick and agile which makes for awesome dodging abilities mixed with her use of her a grappling hook to either drag herself or pull opponents towards her. Her melee is acrobatic with some really fun takedowns. Everything is about the takedown! Unlike Sam, who is wrong, I love Natasha's guns from the pistol to the semi-auto to the heavier shotgun. With Nat, I can easily jump in and out of danger while taking down everyone's shield with my ranged attacks.
Catch us this Tuesday at 6 PM as we continue on Marvel quest!