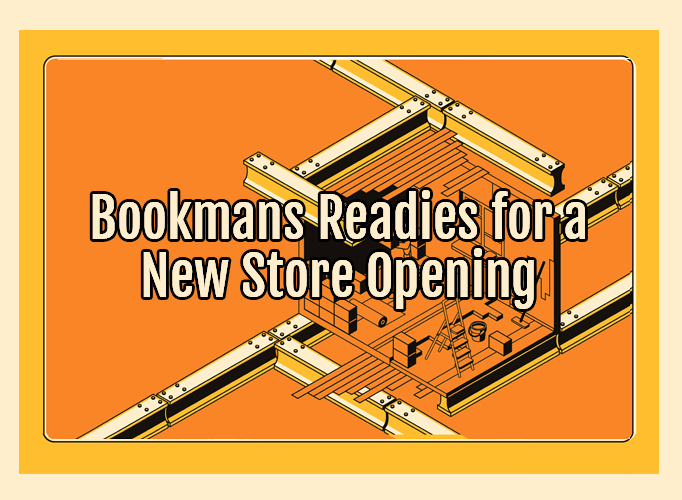 Update: Bookmans' New Tucson Store!
Bookmans is opening a brand new store in Tucson in the fall of 2023! We are actively in the process of constructing the new location at River Road and Stone Avenue, and we are so excited to bring the greenest and most energy-efficient Bookmans store that we have ever built. With that, however, comes some sad news about two of our other Tucson locations. 
As Bookmans announced back in 2022, we will be closing our Midtown and Northwest store locations in 2023. This is not an easy thing for any of us in Tucson who have come to think of these stores as our own. As we are growing into a new location, though, we will be taking as much of the Midtown and Northwest stores with us as possible, literally.
One of the pivotal plans made in the construction of the new store at River Road is ensuring that everything we can repurpose, reuse, and revamp from our two closing stores makes its way into the new store. Your favorite orange bookshelves, along with so many fixtures and art pieces, will become your favorite aspects of the new Bookmans store. We're also bringing all of the stores' merchandise to the River Road location where it will be waiting for you on opening day!
To get all of those goodies over to the new store from Bookmans Midtown and Northwest, we are going to be making some adjustments to those stores' hours. Bookmans Midtown is now closed and Northwest will be open from 10 AM – 6 PM daily until we finish moving the rest of our things out. Our staff will be using those extra hours to box, move, and restock the very best inventory at the River Road store. 
Work began at the River Road store in April 2023 and the construction is scheduled to wrap up in autumn of this year. While the new store's official opening date has yet to be decided, you can look forward to Bookmans making a splash at our brand-new location! At this time we are working on some pretty big party plans, but you can always keep up with the store's progress on our social media accounts here, here, here, here, here, here, and here 😉
You can check out our press release regarding these Bookmans Tucson store updates right here.