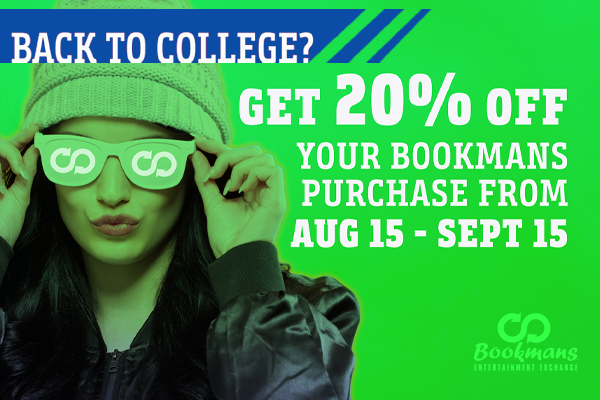 College Students Get Rewarded at Bookmans!
College is a time to discover who you are and what you love, and Bookmans is here for it! Whether you're adapting to a new city or state, easing into classwork, or busy finding the best ways to add some fun into your hectic schedule, you can always use a little extra cash. Head on over to Bookmans and save on all of your must-haves, can't-live-withouts, and need-this-right-now purchases!
Yep, that's right. Bookmans wants to give you more for less. Spend up to $50 at our stores between August 15 and September 15, 2023, and show our cashier your college student ID card to score 20% OFF your purchase! That's a whole lot of extra for free. It's our way of welcoming you to the neighborhood!
So, what do you need to have from Bookmans? How about books, movies, video games, art, decor, houseware, jewelry, musical instruments and gear, vinyl, electronics, collectibles, local artist creations, candles, crystals, tarot cards, or journals? We've got all that and more at your local Bookmans store!
Want to get even more for yourself to shop with at Bookmans? Bring in your pre-loved entertainment, art, music, and decor and we'll make you an offer in trade. Yes, that's right – you can trade what you don't want anymore for Bookmans trade credit or cold, hard cash. How's that for a successful shopping excursion? And you don't have to wait until August 15 to start trading either. Our trade counters are open 7 days a week and we're always on the lookout for something wonderful to come across our counters!
Don't miss out on your chance to get more for a whole lot less with the Bookmans' collegiate discount! Shop anytime from August 15 through September 15, 2023, to get some sweet 20% OFF savings! 
*Valid, active college ID cards only. No additional forms of identification will be accepted. Bookmans reserves the right to decline this offer if acceptable criteria have not been met or are deemed inadmissable. This offer cannot be combined with any additional discounts. Bookmans gift cards and Bookmans trade credit may be used for qualifying purchases.