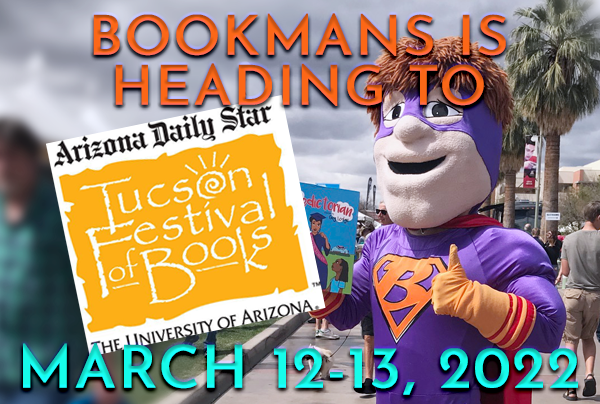 We'll See You at the Tucson Festival of Books!
The Tucson Festival of Books is almost here, and it is truly one of the most incredible events in the country! The Tucson Festival of Books, or TFOB for short, is the third-largest literary festival in the U.S. The TFOB 2022 event includes more than 300 presentations, 350 authors, and 200 exhibitors. Of course, Bookmans wouldn't miss a second of it! This year, Bookmans is taking our TFOB weekend to an eleven by including some incredible (and new!) festival exclusives, banned and challenged book merchandise, some Jane Austen inspiration, and role-playing fun for the whole family too!

It's all happening March 12-13 on the University of Arizona campus in the heart of Tucson! Bookmans will be at booth #443, and you won't want to miss your chance to stop by and shop a HUGE selection of new and used books at a price that's good for your wallet. We've got lots of fiction, children's books, YA series, and nonfiction too. There are also some pretty great book lover accessories too!
Bookmans is always a huge deal at TFOB. One of the most coveted festival items each year is the Tucson Festival of Books exclusive Bookmans tote bag. We wouldn't dream of charging you for it either! All you have to do to grab a TFOB-exclusive tote bag is buy something at the Bookmans booth. We only have 1,000 to give away and that means that there are only 500 each day for customers!

The 2022 TFOB tote bags are newly designed and even greener than ever! This new tote is cream and gray, soft, holds a ton of books and is made of recycled cotton scrap materials. It's truly a tote bag that you'll want to rock forever. Best of all, it comes with a Jane Austen quote about reading. You're going to want to get to the Bookmans booth ASAP to get yours!
Bookmans has long-held beliefs that censorship in any form is the wrong approach to education. As you may have seen in the news lately, the act of banning and censoring books is still very much a part of life all around the United States. We've taken some of our most popular banned quote book jackets and turned them into posters. These limited edition posters, exclusive to TFOB 2022 Bookmans booth, are waiting for you to scoop them up!

For the first time ever, Bookmans is taking one of our most popular book series to the Tucson Festival of Books. These books are not exactly classic literature, but it sure is a book series that millions of people around the world love. We'll have a whole lot of Dungeons & Dragons handbooks and board games, indie RPG games and guidebooks, and something truly special for TFOB attendees too – a Dungeons & Dragons Character Creation Station! Grab a seat and work with a real Bookmans Dungeon Master to create an awesome character! We've even got FREE dice bags (dice included!) to get you on your way to a grand adventure with Dungeons & Dragons (while supplies last)!
We've also got exclusive and limited edition t-shirts. Of course, Book Man will be at the festival along with incredible books waiting for you to take them home! We'll see you at the Tucson Festival of Books in Booth #443!