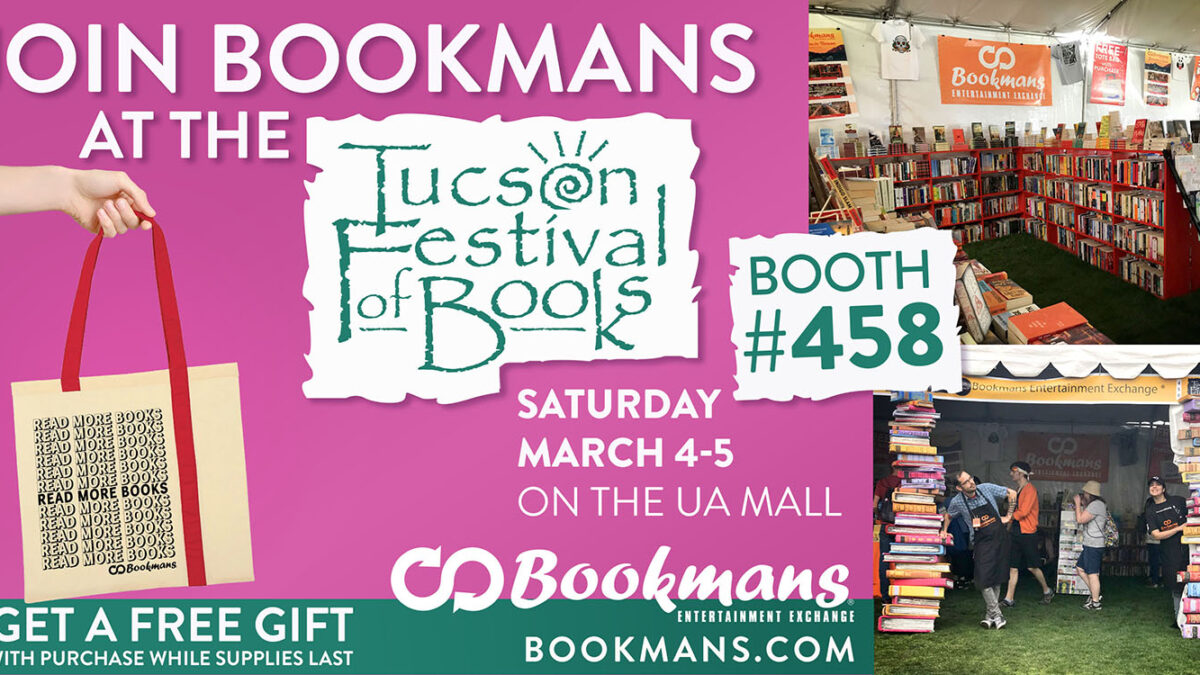 We'll See You at the Tucson Festival of Books!
The Tucson Festival of Books is almost here, and it is truly one of the most incredible events in the country! The Tucson Festival of Books, or TFOB for short, is the third-largest literary festival in the U.S. The TFOB 2023 event includes more than 300 presentations, 350 authors, and 200 exhibitors. Of course, Bookmans wouldn't miss a second of it!
This year, Bookmans is taking our TFOB weekend to an eleven by including some incredible (and new!) festival exclusives, comic book and graphic novel workshops, and of course some incredible exclusives!

It's all happening March 4-5 on the University of Arizona campus in the heart of Tucson! Bookmans will be at booth #458, and you won't want to miss your chance to stop by and shop a HUGE selection of new and used books at a price that's good for your wallet. We've got lots of fiction, children's books, YA series, and nonfiction. There are also some pretty great book-lover accessories too!
Bookmans is always a huge deal at TFOB. One of the most coveted festival items each year is the Tucson Festival of Books exclusive Bookmans tote bag. We wouldn't dream of charging you for it either! All you have to do to grab a TFOB-exclusive tote bag is buy something at the Bookmans booth. We only have 1,000 to give away and that means that there are only 500 each day for customers! It's truly a tote bag that you'll want to rock forever. Best of all, it comes in 5 colors. You're going to want to get to the Bookmans booth ASAP to get yours!

Bookmans is also partnering with local designers CREAM Print & Design to bring their Better Read Than Dead t-shirt back to life for the Tucson Festival of Books! We have exactly 50 of these t-shirts available, so if you want one we suggest you arrive early on Saturday, March 4 to make sure that we aren't sold out of these exclusive beauties!
Will Eisner Week is held every March, celebrating graphic novels, comics & sequential art, free speech, and the legacy of comic and graphic novel pioneer, Will Eisner. For the first time ever, Bookmans is celebrating it at the Tucson Festival of Books! We'll have a whole lot of comics, graphic novels, and GUESTS on hand! Dave Beaty will be joining us on Saturday and Sunday from 12:00 pm – 1:00 pm and 2:00 pm – 3:00 pm. Stop by booth number 458 and learn how to draw Batman and Spider-Man like a professional comic book artist FOR FREE! Beaty will also have some of his exclusive merchandise and artwork available for purchase during the event.
Book Man will be at the festival along with incredible books waiting for you to take them home! We'll see you at the Tucson Festival of Books in Booth #458!