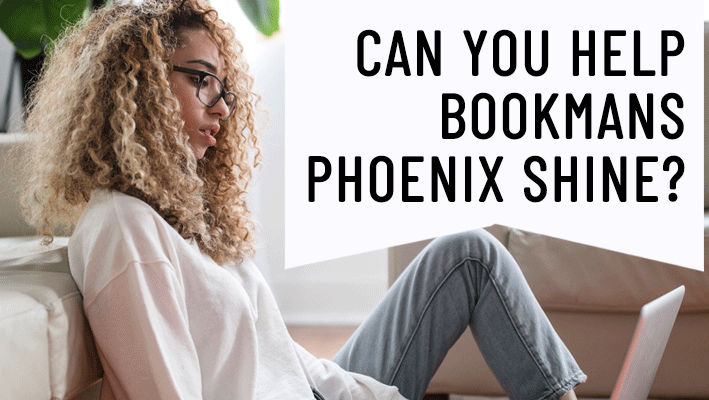 Are You Bookmans Phoenix's New Marketing Coordinator?
*This position has been filled*
If you've ever been to a Bookmans event, stopped at a Bookmans table out at a local fair or festival to snag some swag, or watched a staff member snapping pictures of displays and items in the store with fierce intensity, you've been in the presence of a Marketing Coordinator. In short, a Bookmans Marketing Coordinator is the connection between the customers, community, and Bookmans. In not-so-short, they are so much more!
The Marketing Coordinator floats seamlessly between the sales floor, social media platforms, and the local businesses and the community. They are their store's ambassadors both internally and externally and serve as the liaison for Bookmans company-wide and store-specific marketing initiatives. It goes without saying that this type of role requires someone with an outgoing personality who can adapt to the varied needs of the position. They are a very valuable team member and, most importantly, they wouldn't have it any other way!

Bookmans Phoenix is currently looking for a new Marketing Coordinator Lead to work at our Valley-area store. If everything above sounds like it's a job that's made for you, read on – you may be exactly who we are looking for.
The role of a Marketing Coordinator (or MC) is pretty unique – and that's the best part of the job! With so many hats, it is important that an MC prepares and organizes themselves to accomplish the day's, week's, and month's plans. Self-starters who love to add creative flair to their work are definitely who we want on our team.
As a representative of Bookmans, an MC should reflect Bookmans core values and marketing objectives out into the community. In a single day an MC may meet with a local school, email the final details of a partnership with local businesses, and organize donations for a nonprofit agency. An MC's correspondence, communication, and follow through are essential to building and nurturing those partnerships. Success in this role means being a friendly, professional, and reliable Bookmans team member.

But being an MC is not all emails and meetings. In fact, it's most often all about being social. We host a lot of in-store events that expand on the Bookmans experience. These events are an opportunity to be valuable educational and entertainment resources for our communities. From author fairs to video game tournaments, our customers rely on us to deliver on our community promise to customers of all ages.
In one week an MC may organize and run a book club meeting, a weekly children's storytime event, a Dungeons & Dragons game night, and then round out the weekend at a local festival like Phoenix Fan Fusion. Bookmans presence in the community should be the best version of what we offer in-store. Tables and booths should look professional and show design creativity. It's how we ensure that our merchandise stands out in a fun, positive way. It's all about being social and showing off your Bookmans best.

As the professional social butterfly of your store, you will also represent your store's best on social media. That means snapping pics, grabbing video, and keeping an open line of dialog with our customers and partners online. Every Bookmans store has its own vibe, culture, and voice. It will be up to the MC to embody that voice. Their personality needs to shine through and so does their creativity. Bookmans social feeds have their own style, are engaging, and fun. Just like a Bookmans store, it's where we showcase our best and show off what we've got.
Sharing information is the best way to engage with customers online and share our geeky world. That means sharing the latest pop culture news, making sure that our customers know about sales and promotions, and keeping our customers on the inside track of what's going on and what's hot at Bookmans. And dogs. Lots of dogs!

The new Marketing Coordinator Lead for Bookmans Phoenix has a very fun job ahead of them! They'll be in charge of social media, in-store events, and community and marketing outreach for Bookmans. They will also coordinate all of the Northern Bookmans stores MCs and keep their focus on the biggest and best opportunities in town. Our stores embrace the community, culture, and our staff. 
Ready to apply to be the next Marketing Coordinator at Bookmans Phoenix? Follow this link to submit your resume and cover letter and show us what you've got! If you want to know a bit more about the job from Midtown's resident Marketing Coordinator Kay, read all about her day-to-day.