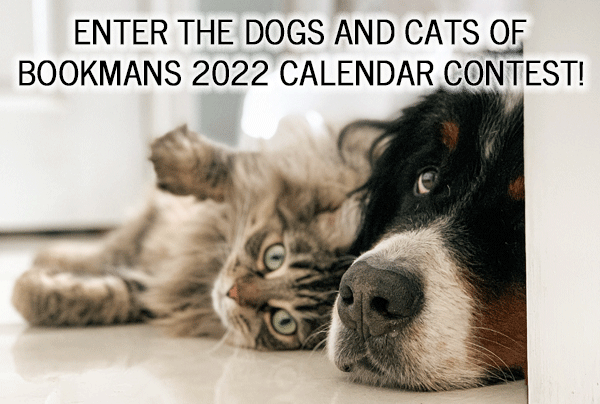 Bookmans Dogs and Cats 2022 Calendar Contest!
***CONTEST CLOSED*** ALL WINNERS HAVE BEEN NOTIFIED.
Bookmans had so much fun making our 2021 Dogs of Bookmans calendar that we just had to do it again… only better! This time, we're making TWO CALENDARS – a dog calendar and a cat calendar for 2022!

Bookmans is taking our love of your animals to an ELEVEN this year. What's better than a Dogs of Bookmans calendar? Dogs and cats of Bookmans of calendars that bring your feline and canine friends front-and-center to enjoy the spotlight they were born for. And as always, that's not all.

These Dogs and Cats of Bookmans calendars will feature some of our furballs, but they will also serve a greater purpose, just like the 2021 calendars did. 50% of each calendar's proceeds upon purchase will go directly to a local animal rescue or shelter! That means that six incredible animal helping organizations will have some additional funds they need to keep their efforts going in 2022 because of you and your furry bestie! We're aiming to have these calendars ready for purchase in November, just in time for the best holiday gift you can give too!

Here are the steps to get your dog or cat in the running for their very own page of the Dogs and Cats of Bookmans calendars:
1. Bring your leashed pet to Bookmans for a visit or take a pic in your own home
2. Take a picture of your pet doing their thing
3. Read the "Rules and Regulations" below before submitting your photo (below)
4. Submit your photo, along with your name, your pet's name, and your local Bookmans store location by email to valerier@bookmans.com starting August 15, 2021.  The contest will be open for submission until September 15, 2021. No entries will be accepted after that date. 
5. Only one (1) entry including one (1) to three (3) images per submission will be accepted per person
6. Keep an eye on your email for a reply message from Bookmans to see if your pet made it to the calendar!

Dogs and cats who are chosen to be on the calendar will be scheduled for a celebrity-level calendar photo shoot at your local Bookmans store with a professional photographer and win a $50 gift basket from Bookmans too!
Are you ready to show off your pet to the world?

Rules and Regulations:
1. Bookmans reserves co-ownership of all dog photos submitted for the Dogs of Bookmans Calendar Contest for use in promoting the contest on social media and the Bookmans website. Bookmans reserves ALL RIGHTS to images created and featured on the Dogs and Cats of Bookmans Calendar, in perpetuity.
2. No in-store or online purchase is necessary to enter the Dogs and Cats of Bookmans Calendar Contest.
3. Dogs and Cats of Bookmans Calendar Contest winners agree to a photo shoot at a Bookmans location. Photos must take place no later than October 3, 2020, by appointment only.
4. Bookmans is solely responsible for choosing the images, winners, and shelter or rescue recipients of the calendar proceeds.
5. Bookmans reserves the right to modify, suspend, or restructure the contest as deemed fit.
6. Bookmans reserves the right to disqualify any entrant who interferes with the Dogs and Cats of Bookmans Calendar Contest, at Bookmans' sole discretion.
7. Contest winners must agree to the terms of the calendar contest prior to entry.
8. Contestants have five (5) days to reply to the winners notification email before Bookmans chooses another winner.

4 Comments
Comments are closed.