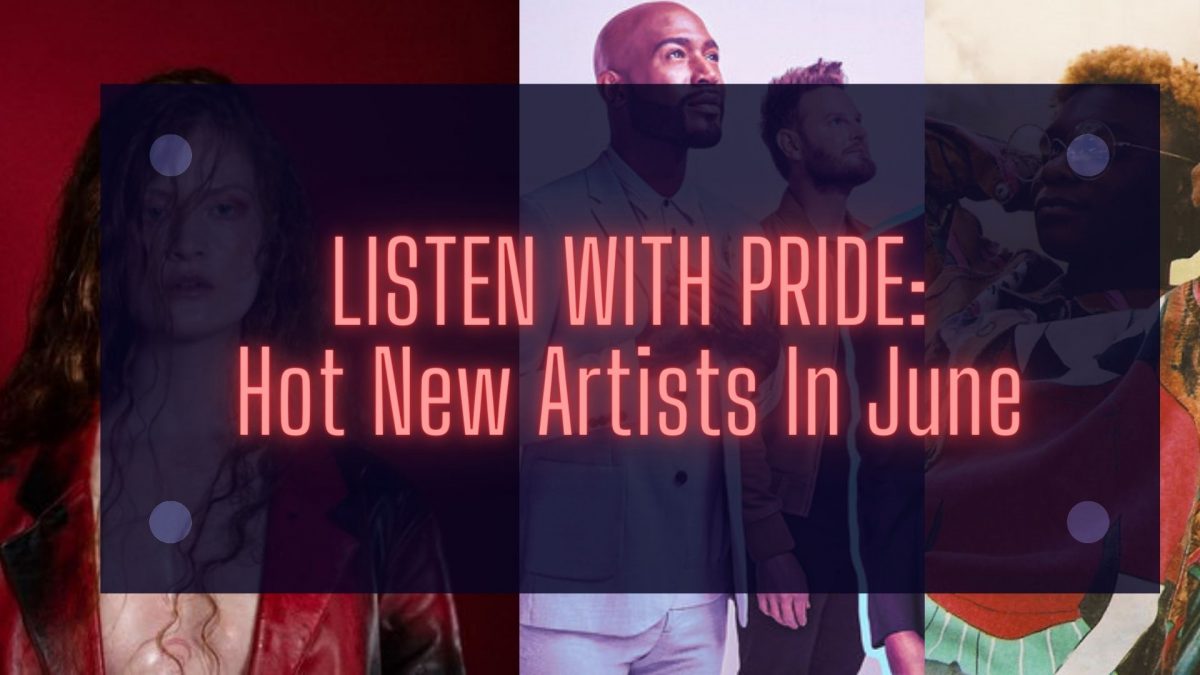 Listen With Pride: Hot New Artists In June
As we know, a Pride celebration is not complete without the right music. Of course, there are music standards that can range anywhere from classic disco to dance-pop and the heart beating thump-thump of a fresh house mix. Continuing our celebration of pride month, we want to list our top 5 choices for upcoming LQBTQIA+ musical artists to watch out for in 2021.

1. Red Moon
If you are a fan of Florence and the Machines, then you are going to love Red Moon. This fiery-haired Norwegian-Swiss artist breathes powerful vocals and emotional lyrics into her music to make for a unique blended and well-rounded sound. With her latest release, 'Thirsty,' which the singer describes as "a playful and curious song about the queer expression" Red Moon is more than ready to prove that she is prepared for the world to fall in love with her.
2. JORDY
Combined with his bright, vivid visuals and his upbeat sounds, JORDY is a new and up and comer
for the LGBTQIA+ community. His new song 'Long Distance' comes at such a perfect time of the
pandemic as couples are forced everywhere to spend time apart.
Talk about an origin story; earlier this year, a snippet of JORDY's song blew up Tik Tok,
encouraging him to finish the song and a subsequent release. We are so happy he did. If you are
a fan of Greyson Chance, you will love JORDY.

3. Serena Isioma
Serena Isioma is a non-binary upcoming singer and rapper crafting bedroom dance-pop with
their own unique vibe and sound. It's a mixture of equal parts containing both indie pop and
R&B. Their latest song, "Sensitive," reflects the Genre-blurring music that is increasingly
becoming the norm these days, but Isioma has managed successfully to carve out a lane of their
own.
4. MAY-A
If you can imagine songs about suburban life through the lens of teenage sensibility, you will get
MAY-A. The 19-year-old Australian started releasing music in 2019 and announced her first EP is
being released this July. Her song 'Time I Love To Waste' is a fantastic example of her diary-like
songwriting that gives us all the feels. If you are a fan of Taylor Swift's music, MAY-A's music is very similar
in style.

5. Vincint
Even the queen of yearning needs a bop in her discography, and you need one in your rotation,
too. Looking up to the holy trifecta that is Beyoncé, Robyn and Celine Dion Vincint is hitting all
the right musical notes. You might already be familiar with his work and not know it, his song
'Be Me' was used for the trailer for season five of Netflix's "Queer Eye."
Vincint is quoted as saying, "People are so interested in sexuality and knowing the status of
another's, it's kind of nuts. It's never been my thing to address my sexuality first when talking
about my music. Still, the positive effect it's had on my career is inspiring younger kids to go after
their dreams in music, and honestly, their dreams in every field. Seeing someone who looks like
you and relates to your experience succeed can be life-changing." We say Amen to that.
No matter whether you are hitting the Pride events in Arizona or at any of the large cities
nationwide, stop into your favorite Bookmans location, where any staff member will be happy to
help recommend a new artist, movie, or book for you. Don't let the celebration stop just there.
Please celebrate with us this month, and be sure to check out all of the Pride-related events going
on at your local Bookmans as well. Happy June, everyone! Show your colors. Show your pride.

1 Comment
Comments are closed.