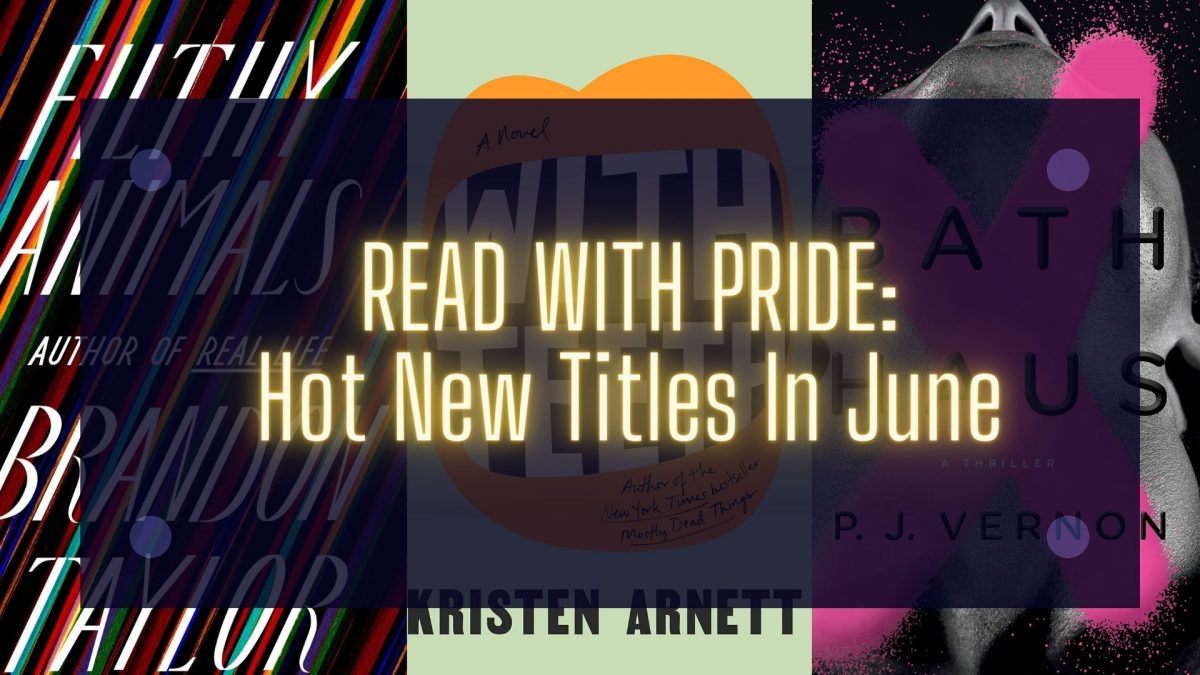 Read With Pride: Hot New Titles in June
June is Pride month. A month designed for the self-affirmation, dignity, equality, and increased visibility of lesbian, gay, bisexual, and transgender community as a social group. Having both inner and outer pride in who you are and who you love, as opposed to shame and social stigma, is the core of what bolsters most LGBT+ rights movements today. As we celebrate diversity in culture, we also celebrate diversity in reading. We have compiled a small list of MUST READ Fiction coming out in June 2021, all written by gay authors.
Bath Haus: A Thriller by P. J. Vernon (Released June 15, 2021)
Already being hailed as an "A nightmarish white-knuckler" by O, The Oprah Magazine, this page-turner follows Oliver Park, a recovering addict from Indiana, who finally has everything a man could want. Although they seem to have a picture-perfect life together, Oliver decides to visit Haus, a gay bathhouse. Once he has gone through the entrance, that line gets crossed. Everything goes wrong, terribly wrong, and Oliver barely escapes with his life.
What follows is a not soon to forget runaway-fast train narrative, full of the cliffhanger, edge-of-your-seat thrills, and an oh-my-gosh twist. A great thriller with an emotional punch, perfect for readers curious for their next must-read novel.

Filthy Animals by Brandon Taylor (Released June 22, 2021)
Praised as one of the breakout authors of 2020, Brandon Taylor is praised by Roxane Gay and hailed as "a writer who wields his craft in absolutely unforgettable ways." This newest offering follows a group of young adults enmeshed in desire and violence. It is a hot, charged, contemporary work of fiction from the author of Booker Prize finalist "Real Life."
Dive into this short stories set among creative young adults in the Midwest. A young man treads delicate emotional lines as he delves into stressful sexual encounters with two exotic dancers. In other stories, a woman battles with cancer draining both her body and her family; Tension builds among a group of teenagers and explodes into a terrifying winter night. Other stories follow a child that tears through her parent's house like a whirlwind, driving her babysitter to the brink. You'll meet couples as they feel out their jagged edges of connection, comfort, and of course, cruelty.
Taylor has an impressively wide range of writing. His depictions of complex characters trapped in untenable situations are hard to forget.

With Teeth: A Novel by Kristen Arnett (Released June 1, 2021)
The sophomore tale from the author of the New York Times bestseller "Mostly Dead Things." It is a touching and extraordinary story of two mothers in love, the struggles with a difficult son, and the limitations of marriage, parenthood, and their love. Her son Samson's emotional problems bring Sammie's maternal instincts into question and strain her marriage with Monika. Samson's personality threatens to blossom into something much darker. It isn't easy to consider which family member is telling the truth in this book.
Blending the warmth and humor of Arnett's first novel hit, "Mostly Dead Things", "With Teeth" introduces a very candid take on queer family dynamics. "With Teeth" is a thought-provoking story of the delicate fabric of family and the many ways it can be torn apart.

Whether you are looking for these or other LGBTQ+ titles, stop into your favorite Bookmans location today. Anyone on staff will be happy to help you locate what you are looking for or recommend something new.  Come celebrate with us this month and be sure to check out all of the Pride-related events going on at your local Bookmans as well. Happy June everyone! Show your colors. Show your pride.