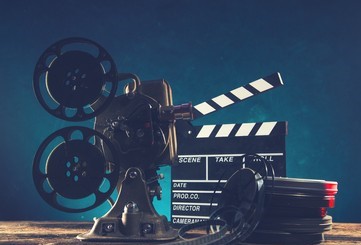 Spring Movie Nights with Bookmans!
Hello Bookmans shoppers and happy spring! Spring is the time for new beginnings, new thrills, fresh starts, and hopefully, less Covid! What do you have planned for these exciting new times? Oh, you haven't given it much thought… Well, Bookmans is here and delighted to be your indoor entertainment! Let's start off with something simple and work our way from this blissful spring into what will be a sparkling cool summer. You know, like something light and fluffy right before the delicious hearty entrée. I've got it! How about a spring movie night (or five)?
Yes, that's perfect! We'll even give you our recommendations! See how easy that was? Bookmans has got you covered.
Here's a list of our top 5 spring movie night recommendations! 

Up first on our list, we have 1989 classic Heathers. Veronica (Winona Ryder) has three haughty teen schoolmates/best friends, all (ironically?) named Heather. The story follows Veronica and her troubled inner monologue. Her relationship with the Heathers is not quite, how they say, "really very." In other words, the toxic rich school girl look can be somewhat deadly. Especially when handsome Jason Dean (Christian Slater) comes to town.

This is hands down one of my favorite go-to movies! It's funny, romantic, and I can live out my rich teen girl fantasy vicariously through the Heathers. What more could you ask for from a spring movie? This title is a solid 10/10.
The next pick on our list is director-driven. It is essential that we include Guillermo del Toro's Pan's Labyrinth.
Where do I even start? This story is a chilling fairytale of a little girl in Falangist, Spain in 1944. The girl escapes war as well as her sadistic stepfather into an enchanting fantasy world. This title is rated R, and definitely not for the little ones. If the trailer alone does not captivate you, you're obviously confused and need to watch it again. Did I mention it's entirely in Spanish? Even better, you can find it on Netflix (as of April 2021, anyway). Check out this awesome film and thank me later!

Alright, let's lighten up this list with something for the family. Perhaps with something animated! This is one of my favorite movie genres and I take this category very seriously. The animated title that we recommend is Kubo and the Two Strings. The story takes place in Japan and centers around a young boy named Kubo, who wields a magical shamisen. He ventures off into far and mysterious lands in the hope of collecting enchanted armor. Why? To stop his corrupt grandfather who also happens to be the moon king.

If you're interested in action/fantasy and traditional Japanese culture, then this is the movie you've been longing for. Definitely, a family film and it's going to be one you simply can not get enough of. And it's from Laika, the animation house behind Coraline and ParaNorman, so you know it's going to look incredible too.
To really tie this list together we need something for our more emotional movie lovers. You know, those sobbing feel-good films that we all love. That's a spring movie thing, right?

I'm thinking we should have an intense Denzel moment. But there are just so many great Denzel movies to choose from! I've got it. The best tearjerker we can recommend would have to be John Q. Don't freak out if you haven't seen or heard of it. It kind of came and went, but it is definitely worth checking out.
The story follows husband and father John Quincy Archibald, struggling to financially keep his family above water. At the start of the film, John's son becomes severely ill and is in need of a new heart. Feeling as if he's failed his son and told that his healthcare provider would not be paying for the LIFESAVING SURGERY his son needs, John makes a life-changing decision to save his son. He takes hostages.

This movie was so intense because it speaks so much truth about our healthcare system, then and now. John's message comes as a huge reality slap in the face. It brings me to tears every single time. It is also beautifully directed and the actors all knock it out of the park. A good spring season cry fest and an easy 10/10. 
Lastly, how about something you can see in theaters right now?! I recently watched Kong Vs. Godzilla and I am geeking out. Seriously geeking out!
I initially thought the movie would be different. By that, I mean, umm… CORNY! No need to lie, my expectations were pretty low. Expectations are not always right. I was honestly blown away. What's most impressive is the way the story progresses along with the character development. Wonderful cast by the way!
It made me laugh a lot and actually gave me some quick scares too. And this is not to mention the intense battle scenes between these two massive untamable beasts. I'm talking butt-clenching and ridiculously intense. Unpopular opinion, maybe, but I am team Godzilla. Don't fight me on this! Watch it and let us know what you think. Perfect spring movie in my opinion.
Are you Team Kong or Team Godzilla?
Tell us how you really feel!
Do you agree with our list? Is there a spring film you'd recommend to us? Let us know how you're feeling. Bookmans is here all spring long with only the best entertainment!