Ultimate Movie Party: Rocky Horror Picture Show
Time is fleeting, isn't it? It's almost astounding, really. Whatever happened Saturday nights that meant something? When madness takes its toll and you've just got to keep control, trade in the tired make-your-own-pizza party night at your house and jump to the left for once. That's right – it's time to do the Time Warp with your nearest and dearest!
Has there ever been a more visually-thrilling, quotable, and fabulous musical movie than The Rocky Horror Picture Show? Has there ever been a movie that lends itself as perfectly to an ultimate movie party? We think not, humans! Don't worry your pretty little heads, you Brads and Janets – Bookmans is here to show you how to Ultimate Movie Party your next shindig with all the glitz and glam of the sweetest transvestite to be found anywhere on planet Earth. Let's roll that science fiction double feature!
The Rocky Horror Picture Show, Richard O'Brien (1975)
The Rocky Horror Picture Show, the cult classic flick that took the world by storm back in the mid-70s, takes everything taboo and celebrates it in all its glory. Brad and Janet, a couple about as exciting as white bread without crusts, find themselves stranded during a storm and in need of some help. Thankfully, they see a castle where they can find refuge… or so they think.
Brad and Janet are confronted with "strange" people at an even stranger party. Hosting this irreverent event is Dr. Frank-N-Furter, a modern Dr. Frankenstein who has been toiling away on his most impressive creation for months – a well-muscled, blond, and tanned man named Rocky. As Brad and Janet navigate this alien world of characters, including servants Riff Raff and Magenta and live-in groupie Columbia, they find themselves drawn to their unusual and sinfully-enchanting host. What will become of our lost lambs? You'll have to watch The Rocky Horror Picture Show and find out!
Dress the Part
At its surface, Rocky Horror is all about sexual exploration and relief from repressed impulses. Thus, the fishnets, corsets, and feather boas featured in the film are the mainstay of the costumes most often worn by cosplayers and Rocky Horror enthusiasts. While there is certainly nothing wrong with celebrating the sexier side of the movie in all its costumed glory, Rocky Horror explores so much more than sexuality.
As the song goes, Rocky Horror wants everyone to give themselves over to absolute pleasure, whatever that may be. "Don't dream it, be it," the song encourages, so for us, dressing the part for a Rocky Horror party is about asking your guests to come dressed as their ultimate fantasy. Whether it's James Bond or an adventurer from the past, give your guests the freedom to express themselves.
Set the Scene
Want your guests to come in costume and know that they are in for a wild ride? Tell them with a themed invitation. Digital or printed, your invite should scream glam and give all the juicy details about what your party guests can expect. Even Dr. Frank-N-Furter's guests had an organized evening, complete with choreographed dance numbers. That takes planning, darlings! So don't be afraid to lay out a loose timeline of party fun that guides your guests through the enchanting world of Rocky Horror.
The castle from Rocky Horror is a lot of things, but boring is not one of them. You'll want to bring some of that Frankenstein Place flair to your party, of course. Be sure to deck the halls with color, gothic décor, and maybe some tricks out of your Halloween and New Year's Eve supplies like skeletons, confetti, and party hats. Dr. Frank-N-Futer is a lot of things, but he is not one for clutter – think statement pieces with a little flair (okay, a lot of it). And you may want a throne.
Entertainment
One of the reasons that Rocky Horror has stood the test of time is due to its outrageous and oh-so-catchy songs. Whether you or your guests are acquainted with Rocky Horror, you've undoubtedly heard the signature song from the film, The Time Warp. Don't know how to do the Time Warp? No worries – just put up a handy step guide like this one and have your guests follow along! Costume contests to a dance-along to karaoke jamming to lip sync competition – Rocky Horror is loaded with thematic entertainment.
Food
If Rocky Horror is about anything it's about indulging in all things considered, well, sinful. This is the party where you want to bust out that cake that's got three pies baked inside of it, foie gras, that cotton candy and ice cream burrito (you heard me), steak tartare, bacon (all the bacon!), chicken and waffles (you can make that chicken with graham cracker crust, btw), milkshakes, totchos (loaded-nacho-topped tater tot nachos), hot dogs (so on-theme!), doughnut-bunned burgers, and of course 5-cheese macaroni and cheese.
Drinks? Yes, please! Wine is featured in the movie's grisly dinner scene, but other than that, not much else. I recommend going the route of drinks that are screaming with sugar, heat, and thickness. No appletinis, please – think honey whiskey, a flaming B-52, milkshakes and floats, and a dirty banana.
If you are in the Tucson-area and want to truly make your ultimate movie party beyond ultimate, we suggest heading to The Loft for their monthly midnight screening of The Rocky Horror Picture Show. Gather everyone at your house for party fun first, then head over to The Loft for a late-night screening. Be sure to cinch up those fishnets, everyone!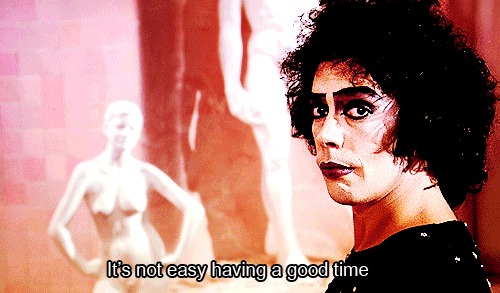 Looking for a Blu-ray copy of The Rocky Horror Picture Show, the vinyl of the soundtrack, or random items to set the perfect scene for your ultimate movie party? Your local Bookmans is just a jump to the left, a step to the right, and a pelvic thrust away!