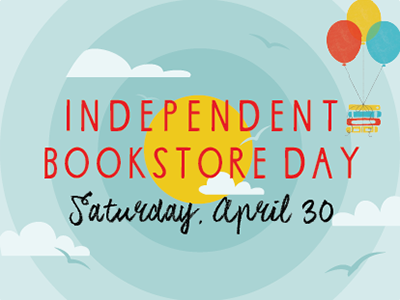 Cheers to Independent Bookstore Day 2022!
April is one of the BEST months of the year. Why? Independent Bookstore Day, of course! Independent Bookstore Day (IBD) is a favorite day of the year for all book lovers and all indie booksellers too. Bookmans and our employees get to celebrate being a local bookstore and being seriously passionate book lovers with other book-loving people! Here's why you should add Bookmans to your Independent Bookstore Day shopping and event schedule on Saturday, April 30th!

There are so many awesome things about Independent Bookstore Day that are worthy of celebrating, but the love of the bookstore is the most important. IBD brings attention to bookstores, which hold a significant place in the community. Bookstores reflect the people who frequent them, often serving as the local space where thought, stories, and perspectives collide. Inside a book lies a world for you to dive into, and thousands of those worlds inside a bookstore. Pretty powerful places, those local bookstores!

Of course, Independent Bookstore Day is also about celebrating your love of reading. What better way to proclaim your passion for the written word than by grabbing some books and that IBD-exclusive merchandise? IBD is offering tons of merchandise for literary lovers. They've got IBD tote bags, journals, candles, t-shirts, socks, posters, and best of all – exclusive book releases – and you can get them at your local Bookmans store!
Bookmans stores are not only here to help you score those super-exclusive IBD totes, books, and merchandise. We're also here to celebrate with you! We've got some incredible in-store events, some super community supporters and educators sharing their love of reading, giveaways, and even a book launch! Bookmans Mesa is taking this day to an eleven with non-stop events, featuring special mini horse guests, a meet and greet, live music, crafts, and so much more!