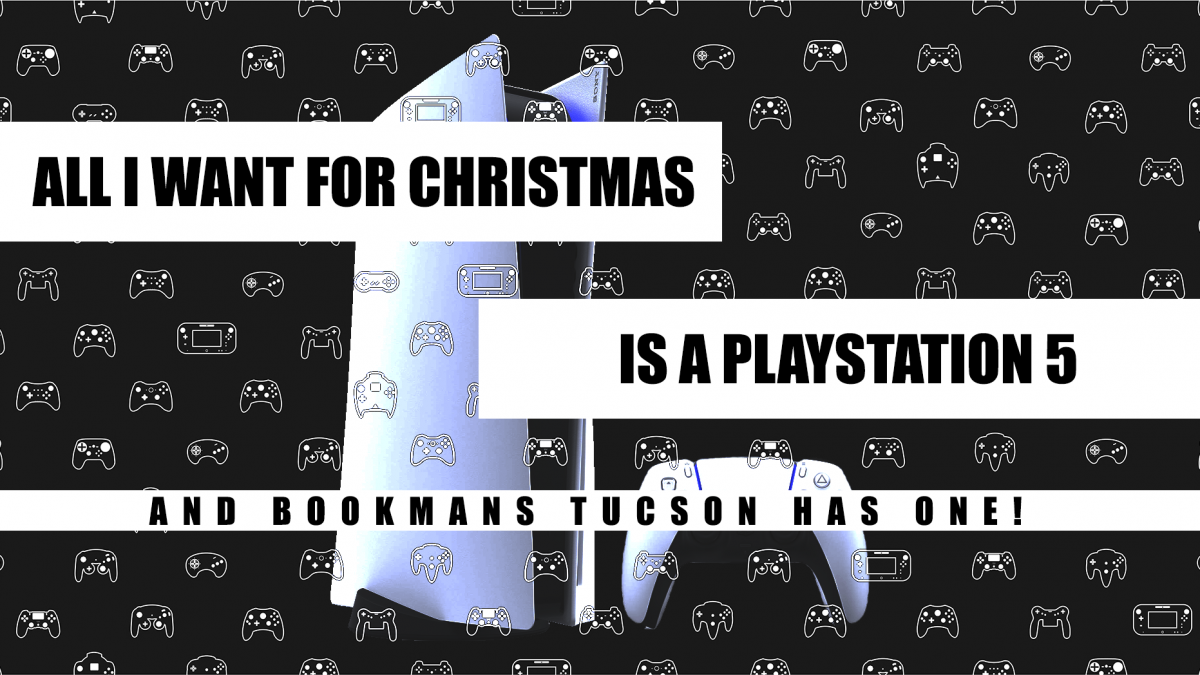 Win a Spot at the Bookmans PS5 Auction!
Bookmans Tucson has scored something truly spectacular for Christmas, and we want to give you the opportunity to take it home for the holidays. A nearly new, out-of-box, disc-equipped PlayStation 5 gaming system plus a matching white controller came across our trade counter in Tucson, so one VERY lucky person will take home the best Christmas gift ever on December 22. But in order to have a chance to buy this awesome product, you have to first gain entry into the PS5 auction. Want to earn a seat at the upcoming Bookmans PS5 auction on December 21, 2021?
To gain access to this one-time auction, all you have to do is trade in what Bookmans wants: video game stuff!
From December 10 through December 20, bring any Bookmans Tucson store a whole lot of video games, video game hardware, video game accessories, and video game consoles to trade. Collect up to $100 in either trade or cash offers and you will be able to enter the PS5 auction! Best of all, you can meet the $100 trade-in criteria with multiple trades during the contest run, so you have 10 days trade-in and get that auction password!
Here is what you need to do to get into that auction and bid to win a PS5 just in time for Christmas! Follow all listed criteria below. No exceptions will be made. This contest is held at Bookmans Tucson stores only (Bookmans Northwest, Bookmans East, and Bookmans Midtown).
A trade appointment is recommended, but walk-ins are welcome.
Qualifying trades must take place between December 10 and December 20, 2021.
Bring in sufficient quantity and quality of video games and video game hardware to trade (all systems and video game accessories will be considered).
Accept a cash OR trade offer of $100 or more from any of three Bookmans Tucson stores. These offers can be any combination of cash or trade, but all offers must be stamped and approved for qualification by a Bookmans team member.
Customers must hold onto their qualifying Bookmans PS5 Trade Receipts if they are continuing to trade to reach the $100 threshold to gain entry to the PS5 auction. Customers must bring all physical qualifying trade receipts in for each trade transaction to combine them. Bookmans will not be held responsible for holding or storing customer trade receipts, lost trade receipts, or other damage. Bookmans will not accept digital receipts as proof of qualifying trades.
Only approved, original Bookmans PS5 contest and auction forms will be accepted.
Contestants must submit their full name, phone number, and email address and show their ID to verify their name given on the Bookmans PS5 Auction Entry Form to receive the password. Passwords will not be given out at the time of the trade but will be sent via the email address provided.
Contestants must use their password to attend and bid during the virtual auction on December 21, 2021, at 7 PM, live via Zoom. Arriving late to the PS5 auction is not recommended as you may miss your chance to bid.
The highest bidder for the PS5 must pay for their PS5 at Bookmans East no later than December 22, 2021. If the winner does not pay for the item by that time, the next highest bidder will be contacted to purchase the system and the original winner will forgo the opportunity to purchase the PS5.
That's it! That's how you can be the lucky bidder who gets a PS5 for the holidays. Start gathering your unused video game gear, make a trade appointment at a Bookmans Tucson store, and trade your way to the PS5 auction! We'll see you at Bookmans!
2 Comments
Comments are closed.