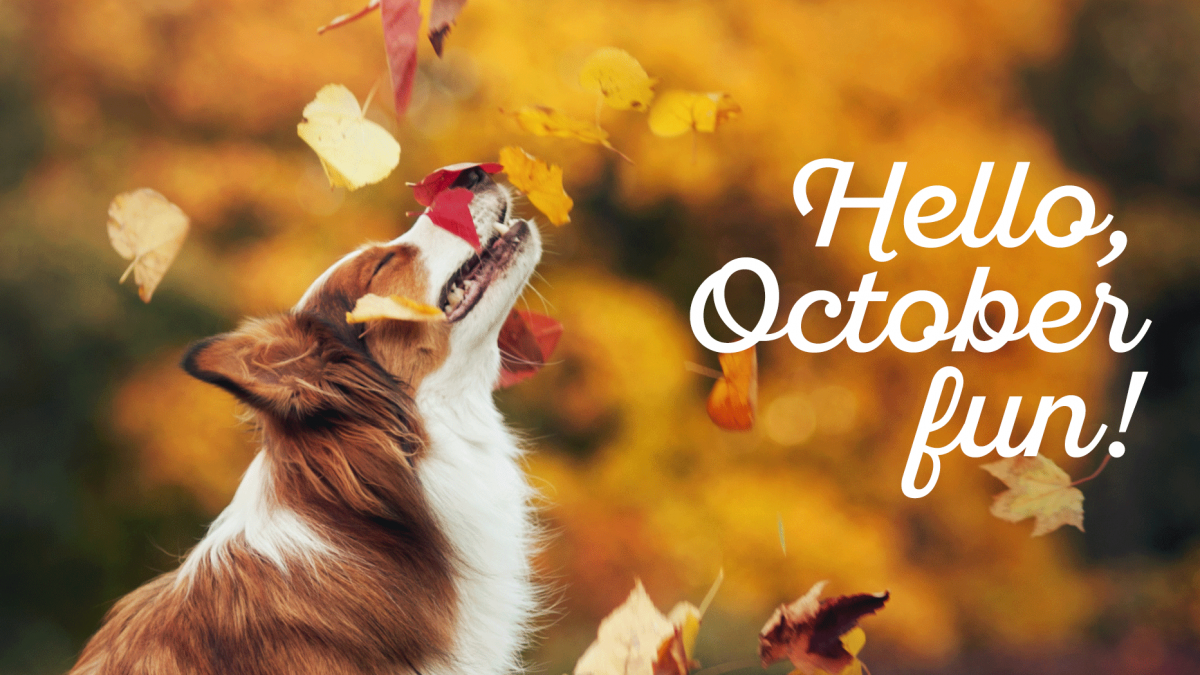 A Ton of October Fun at Bookmans!
Are you feeling the air getting colder, maybe just a little? Us too! Bookmans stores are focusing all our efforts on having October fun! From local love to doggone fun to super special giveaways, Bookmans is making October the best month of the year. Take a look at what we've got going on to make your month awesome!
Going to the dogs
Dogs and Bookmans go together like peanut butter and jelly. We know your dogs. We love your dogs. Bookmans wants you to bring your dogs into our stores, and not just for treats and safe exercise. We want to feature your dog in the first-ever Dogs of Bookmans 2021 calendar! Your dog can be a local star with just a picture taken at any of our Bookmans stores. 12 winners will be chosen to be featured, from little dogs the size of a book to big ol' mutts. Give your good fur baby a brush, put on a costume or outfit if you choose, and head on over to your local Bookmans for a photo! Click here for the complete details about the Barktober Dogs of Bookmans Calendar Contest.

Somehow, the best part of this Dogs of Bookmans calendar is not that we are highlighting local pooches, but that the sale of these calendars will help other dogs in need. That's right, Bookmans is donating 50% of all calendar sales to 6 different local animal rescues in Arizona! Your dog's photo not only brings a smile to a human, but you'll be helping animals in need smile too. Win-win and a paw high-five!

Rock on, everyone!
Do you play the ukulele? If you do, Bookmans has a supremely great giveaway you're going to want to check out. All October long, you can enter to win 1 of 6 Bookmans limited-edition custom ukuleles, a $70 value! Each store only had 10 of these ukuleles to sell, but we kept one back so that you can win it! To enter, just drop a free raffle ticket into the box at your local Bookmans Musical Instrument counter. Want more chances to win? The Bookmans musical instrument teams are also giving anyone who trades in musical instruments a reward of additional raffle entries. How cool is that?! Dust off those instruments and bring them to Bookmans!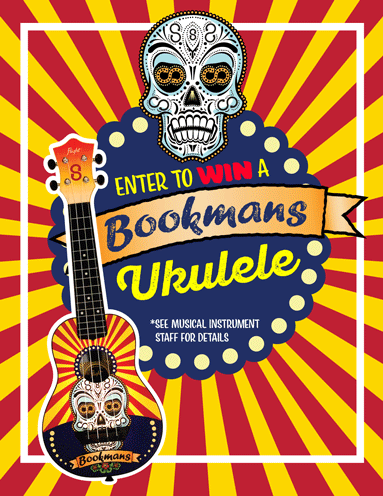 Home, but not alone
Bookmans has missed all those packed events at our stores week after week, but we're not going to let the pandemic stop us from having fun with our communities! Bookmans events have gone virtual, and that's good news for a lot of reasons. One, you can join us in your pajamas. Two, we are creating many events that include free kits you can pick up at your local Bookmans store. Three, we're still working with local community experts who make each and every event fabulous. Four, since it's all online, you can check out other Bookmans stores' events and add them to your calendar! Five, they are now as ever they were – totally free.
The pandemic has given us much more time to explore our passions and get creative. If you're interested in exploring the world of zine-making, don't miss the SAACA/Catalyst Zine Workshop live stream on October 1!  Bookmans is also continuing our partnership with the Tucson Humanities Festival who are bringing their virtual event series Toward Justice to everyone. Streaming conversations will include a discussion of Jordan Peele's Us with Africana Studies professor Dr. Tani Sanchez, BLACK LIVES MATTER: A Global Call for Justice and Liberation Webinar Panel LIVE on Zoom, and so many more excellent humanities topics to engage with. Bookmans and 98KUPD with DJ Fitz Madrid are teaming up for a virtual event live from Bookmans Mesa on October 10! Get ready to roll!

Our events are always updating, so keep an eye on the Bookmans events calendar.
Christmas is coming early
The American Booksellers Association knows how retail businesses like Bookmans are struggling during this pandemic. They had a fantastic idea to help you support your local bookstore – December shopping in October!

The goal of the ABA's October is the New December initiative is to get the word out to the book-loving communities that bookstores need a whole lot of love right now. They are encouraging everyone to do their holiday shopping early this year to boost local book retailers' bottom lines and ensure that the books you want for the holidays are available. This helps businesses like Bookmans keep going and can even ensure that we'll be around in 2021 and beyond.
As the ABA puts it: "Shopping early is important this year due to the high demand for books, the potential for supply chain disruptions and delayed inventory shipments, and the need to help bookstores and other small businesses make it through the end of the year."

We hope that all these reasons bring you to Bookmans, but remember, if you're not able to shop at our stores, you can still support Bookmans with curbside shopping and trade. You can also show your support by purchasing a Bookmans gift certificate or swag item from our online store!