MLK Day Interactive Event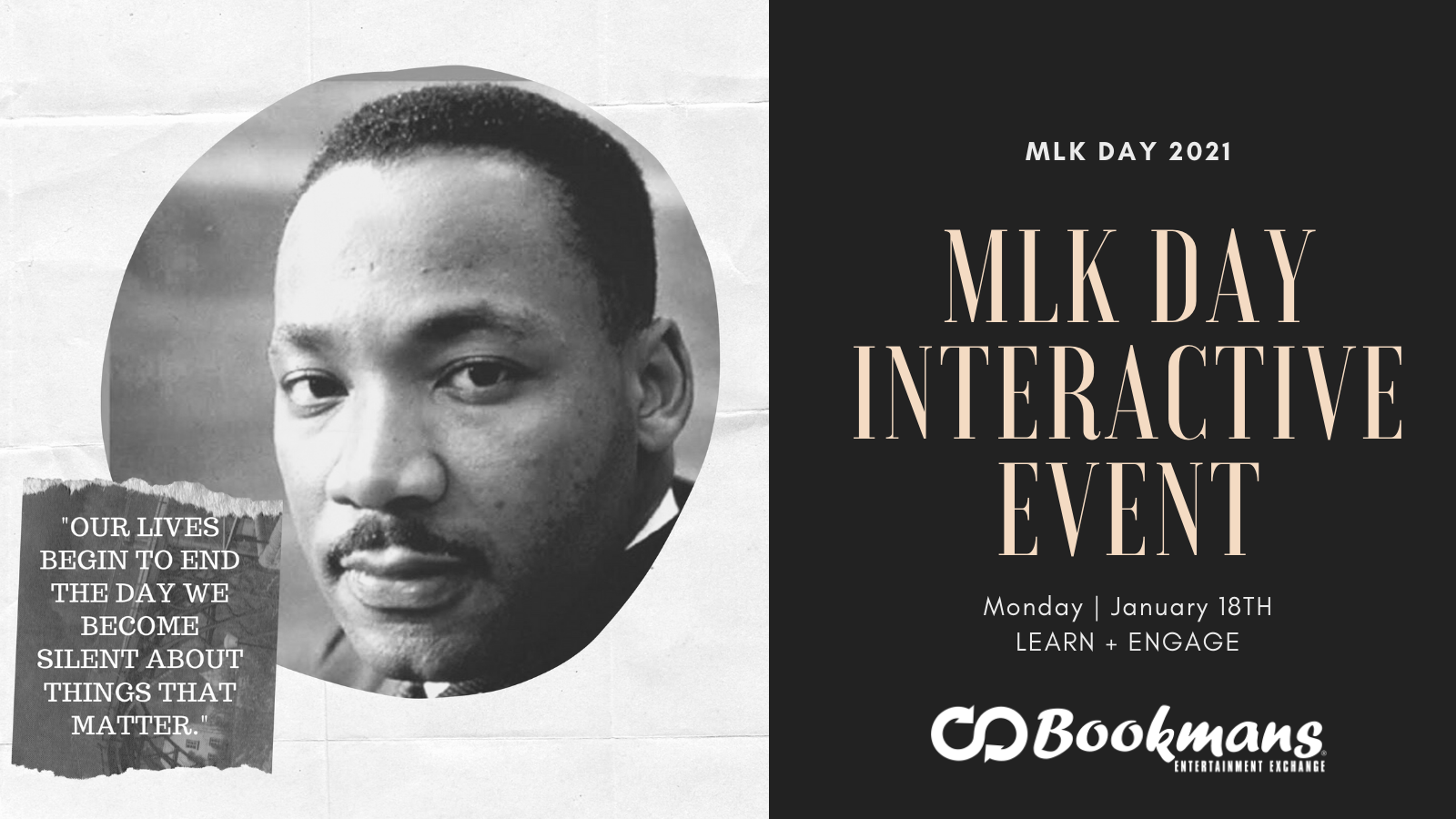 This year Bookmans stores are celebrating the life and legacy of Dr. Martin Luther King Jr. with displays in each of our stores. As one of the leaders of the civil rights movement, Dr. King's impact continues to affect the movements of today. As racial injustice against Black Americans continues to occur it's not so hard to imagine yourself during the civil rights movement. MLK Day is a day of reflection and service. This guide is what you make of it, a tool of sorts to share, add some reads to your to be read list, and a chance to revisit a part of history that reflects our world. 
Dive deeper into the influence of Dr. King and the history of the civil rights movement. Every resource provides a chance to learn more, further contextualize the civil rights movement, and celebrate Dr. King's influence. The guide should serve as a resource and help frame Dr. King's advocacy during the civil rights movement. Please engage with the resources and share your comments and reflections in our stores and with your community. Thank you for taking the time to learn, engage, and reflect with us!
Timeline of the Civil Rights Movement 
October 28, 1967

One of the

founders of the Black Panther Party Huey P. Newton was arrested and pled not guilty to the murder of officer John Frey uniting The Black Panther and Peace and Freedom parties forming the

"Free Huey!

" campaign. 
Other Key terms
More For Your Reading List
Listen Here
Watchlist
One Night in Miam

i

is the directorial debut from Academy Award winner Regina King,

"One Night in Miami is a fictional account of one incredible night where icons Muhammad Ali, Malcolm X, Sam Cooke, and Jim Brown gathered discussing their roles in the civil rights movement and cultural upheaval of the 60s," available on Amazon Prime. 
For a British perspective on Black life around the time of the Civil Rights Movement in the U.S. the

Small Axe

film series directed by Academy Award-winning director Steve McQueen is

about West Indian

immigrants in London during the 1960s and 1970s. 
Problem Areas with Wyatt Cenac

is a Late Night show hosted by Wyatt Cenac that aired on HBO in 2018 focusing on issues facing the nation. Season one focuses on policing and season two focuses on education. 
Test your knowledge of movements past and present with the Black Panthers and Black Lives Matter Quiz from pbs.org. 
MLK Day is just the beginning of a continuum celebrating Black history and life. Stay tuned to the Bookmans blog and our social media feeds during Black History month in February for more content. Explore more reading when you check out our Black Voices Matter displays in all Bookmans stores. If you're looking to take action now you can find ways to support the Black Lives Matter movement here. Finally, for an in-depth look at Anti-Racism and even more, resources see our Anti-Racist Media Resource Guide.