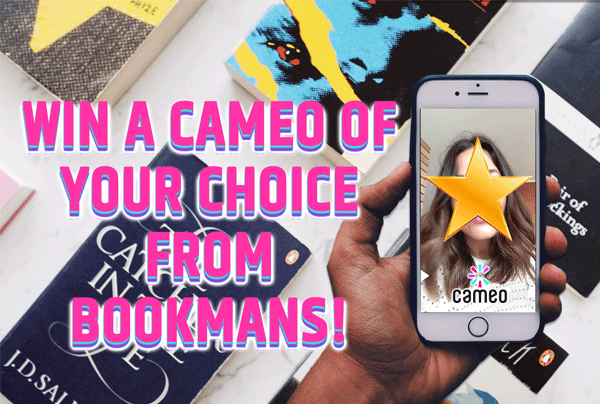 Win a Cameo from Bookmans!
Have you seen the amazing talent that you can hire on Cameo to send yourself or someone else a special personal message? It's just about the coolest thing ever, especially if your favorite celebrity is available! Well, Bookmans is rewarding all of our readers with a chance to WIN 1 of 6 Cameo prizes, totally on us!

How does one enter this awesome contest? By buying books, of course! We are taking bibliophiles' favorite holidays – Paperback Book Day (July 30) and Book Lovers Day (Aug 9) – and turning them into the most exciting book shopping day ever. All-day long on both Paperback Book Day and Book Lovers Day, every single book you purchase will earn you a raffle ticket to enter to win a Cameo.
Yep, it's that easy to win! Just shop as you normally would and you can score a personalized Cameo from your hand-picked celebrity. Best of all, we're picking winners at every single one of our stores, so it doesn't matter which Bookmans you call yours. You'll always have a chance to win!

Here are the full details of how you can enter to win and how Bookmans is choosing a winner:
1. For each qualifying book* you purchase on July 30, 2021, and August 9, 2021, Bookmans will give you a raffle ticket to enter the Bookmans Cameo Giveaway contest.
2. Entrants must retain their raffle ticket to collect their prize. No photos or other means of retaining raffle ticket numbers will be honored.
3. Bookmans will choose all six (6) winners at random on August 11, 2021. Bookmans will announce the winning raffle ticket numbers won social media on both Bookmans' Instagram and Facebook accounts. We are not collecting names or phone numbers with raffle tickets. Winners must present their original winning raffle ticket to Bookmans to claim their Cameo prize, so you must check those feeds for the winning numbers. No exceptions.

4. Bookmans will gift all winners the Cameo of their choice up to $500. No winning Cameo requests above $500 will be optional.
5. Bookmans Cameo Giveaway contest raffle tickets will only be given out at the time of purchase. No follow-up raffle ticket requests will be granted, even with proof of purchase on qualifying items during qualifying dates.
6. Customers may refuse entry to the Bookmans Cameo Giveaway contest at checkout.
*Qualifying book purchases to include all paperback books purchased exclusively on July 30, 2021, and all paperback books, hardcover books, and graphic novels purchased on August 9, 2021. One raffle ticket per qualifying book purchase will be collected and distributed to the customer.