Bookmans Recommends: D.C. Follies
Who doesn't have something they have fond memories of? One show took America's funny bone by storm, and I remember it fondly, even if I was too young to get all the jokes. That nostalgic, kooky cocktail of 1980s politics and pop culture has finally landed onto DVD. Presented by Shout Factory, all 44 episodes of D.C. Follies are presented uncut – for the first time.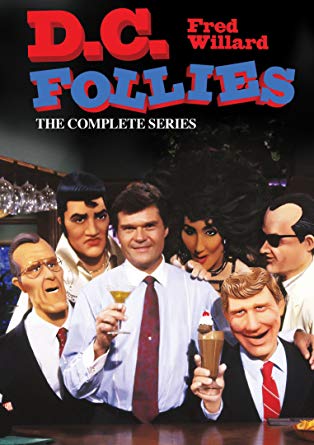 From the back of the DVD box:
"Stop us if you've heard this one before: two puppets walk into a bar in Washington, D.C. …  what's that? You've heard this one before? Then have we got a show for you: D.C. Follies! Brought to you by those masters of trippy TV, Sid & Marty Krofft (H.R. Pufnstuf, Land of the Lost), D.C. Follies stars the one and only Fred Willard (Best in Show, Modern Family) as the bartender in the hottest joint our nation's capital has ever seen … and where the clientele is made up of puppet caricatures of the biggest names in showbiz and affairs of state!
From the world stage to the puppet stage, Fred and his most-irregular regulars sock it to the culture of the day with a satiric style that really makes its presence felt. With an array of timely, non-puppet guest stars along for the ride, D.C. Follies is a handy way to look back and laugh at the 1980s, no strings attached."
This show was sensational! I couldn't understand the puppets' politics because I was a kid, but I remember laughing, sometimes uncontrollably, at the antics of those puppets. This was high Muppet-era and D.C. Follies was king of the hill. Everyone was watching.

Is this gem rekindling fond memories for you too? If you're looking for this set or if another a particular DVD or book from years gone by, stop into your favorite Bookmans location. We will do our best to try and help you locate it for you. We can also usually transfer DVDs from one store to another, so even if we don't have it, another Bookmans might!
Happy hunting!