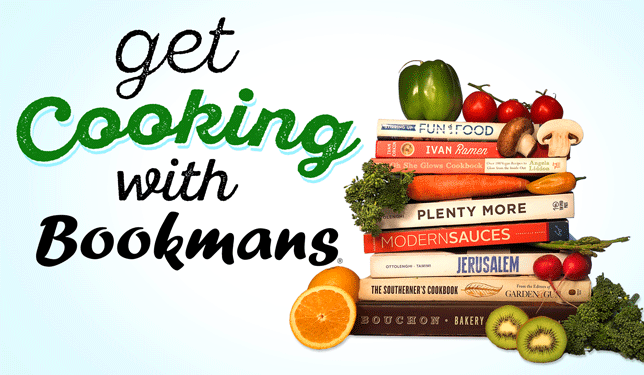 Get Cooking With Bookmans in November!
Bookmans is ready to make November the best month of the year! We've got new store hours, ways to show some kindness, and plenty of reasons to make Bookmans the place you do all of your local shopping for the holidays!
First, let's start with Thanksgiving. We're dreaming about turkeys and stuffing and desserts already! The great news is that Bookmans can help you create any kind of amazing Thanksgiving or Friendsgiving meal with our huge selection of cookbooks and kitchen accessories!

DYK that there's a second Book Lovers Day in November? It's true! To celebrate, we've got a special Buy-3-Get-1-Free November 7 sale all things bookish! Support your local bookstore, get more for less, and start your holiday shopping early!

Bookmans' ThanksgivingBACK book drive is back for 2020! From November 20-22, you can purchase one of three books to donate to a child in need and spread some literary joy this holiday season.

Now, the BIGGEST NEWS! 
All BLACK FRIDAY WEEKEND, we're extending store hours from 7 AM until 10 PM for your shopping convenience. Think you can get up early enough to make it to the doors by 7 AM? If you do, you'll get first dibs on all the new restocked items in our stores. Talk about a holiday treat!
Your safety is still our priority, so be sure to bring your face mask. To keep everyone safer still, Bookmans is continuing our occupancy restrictions throughout Black Friday weekend. That means there will be no crowded aisles or rowdy shoppers to worry about. Winning!
MORE BIG NEWS!

Bookmans is getting in on the Cyber Monday action! This November 30, Bookmans is taking our very best, rarest, and most collectible items and hosting our very first LIVE FACEBOOK AUCTION! Presented by Phoenix comedy geniuses All Puppet Players, the Bookmans Cyber Monday Facebook Live Auction is the easiest way to get exactly what you want for the holidays without leaving your house! Keep up with the details of our Cyber Monday auction by following @Bookmans on Facebook! 
With so much going on, we don't want you to lose track of our November hours. Bookmans is extending our store hours daily starting November 1. Sunday through Thursday we'll be open from 9 AM until 8 PM, and on Friday and Saturday we're open from 9 – 9! 

Election Day hours are adjusted to ensure that every employee has time to get out and vote and volunteer at the polls too. On November 3, Bookmans Election Day Hours will be 9 AM – 3:30 PM.