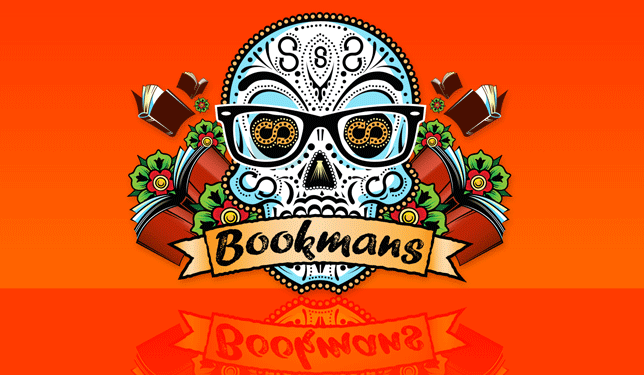 Midnight Madness, Authors, and More for February!
Bookmans is never short on incredible things to do for the whole family, even if the month is short on days. There is a whole long list of February events coming to a Bookmans store near you. But first, we can't wait to tell you the big, BIG news!

It's Bookmans Phoenix's turn to host the HUGE MIDNIGHT MADNESS SALE! That's right – for one night only, February 15, Bookmans Phoenix is staying open until midnight and packing the house with fun, music, and festivities as we bring our community what it wants most of all – A DISCOUNT OF UP TO 40% OFF EVERYTHING IN OUR STORE! For the complete list of Midnight Madness activities, including info about our 21 and over beer garden and outdoor movie screening, check out this event listing. Be sure to follow @bookmansphoenix on all social media channels to catch the latest news and updates too! Our thanks to 19North for their support and help with putting the Midnight Madness festivities together!

That's a lot of amazing in one paragraph, but we've got even more updates. Every Bookmans store is making your Valentine's Day extra special with our Blind Date with a Book displays. Browse some book stickers and discover a new literary love hidden beneath!
Now, let's get down to the nitty-gritty of our amazing event lineup for February 2020! There's the Blind Date with a Book displays at every Bookmans store too. Search the display of pre-wrapped books and take a book out for a test drive without judging it by its cover first. One more thing that you can find at any local Bookmans store are coupons for the AZ Renaissance Festival opening weekend February 8 & 9. Those coupons are good for a free adult entry when you buy an adult ticket!
Mesa
So you're in Mesa and you just can't figure out where to find a free ukulele workshop… How about the free monthly Ukulele Party and lesson at Bookmans Mes? You can browse our ukulele section or BYO uke and play! Make Magic (the Gathering) happen at the MtG Meet Up Social or meet up with the Mesa crew at Desert Nights, Rising Stars Literary Fair at ASU!

Feel like getting those creative juices flowing in the new year? Sign up for the Creative Writing Workshop. For the kids and teens, we've got a Seuss-abration Celebration and a Super Smash Bros. Ultimate Tournament with Game On Expo!
Phoenix
Not only is the Phoenix store bringing you up to 40% off at our Midnight Madness event, but they've also got a Read Local Book Fest and a Palentine's Day Studio Night. For kids and the young at heart, gaming is always on deck! Check out Pokémon Happy Hour, Beginner's DnD, and share a love of reading with your little ones, Disney-style, at the Discover Reading With Belle event!
Flagstaff
Tired of being snowed in up in Flagstaff? Get out of the house and join Bookmans Flag for Magic the Gathering Nights or check out some Local live Music! If you're on the hunt for a new beau or a new bestie, sign up to be a part of the fun and chill 30 First Dates speed dating event hosted by local drag queens Jewel and Revelucion. Paint your creative heart out at our monthly Studio Nights event with Creative Spirits and meet a local author at An Evening with Evangeline Parsons-Yazzie!
Tucson
Looking for something different this month? The Mesenberg Method Guitar Totality Clinic may be exactly what you need to reinvigorate your soul. Prefer to listen to music rather than play it? Check out the Standard Deviation Quartet at Midtown. Valentine's Day is just around the corner, so if you're feeling romantic, join the brand new Romance Book Club. There's no better gift to get your special someone than one made locally! Join local bakers, artists, and creators for the Fanciful F.A.B. Pop-Up Market and snag something special. Speaking of local, head to our East store for the Eat Local: A Cookbook Author Fair!

Want some guidance to navigate your 2020? Check out Not Your Granny's Tarot or just snuggle up with your new best fur friend courtesy of the Meet Your New Best Friend Adoption Day. With the kids out of school for Rodeo Days, Bookmans Northwest is here to keep them entertained at the Rodeo Days Fun Club Craftapalooza.
There's also Storytime With Sign and Love of Reading Month Celebration with Mr. Nature's Music Garden!
Believe it or not, there are even more fun and free events courtesy of your local Bookmans store this February, so check out our complete event listings and have a wonderful month celebrating your love of all things Bookmans!
2 Comments
Comments are closed.