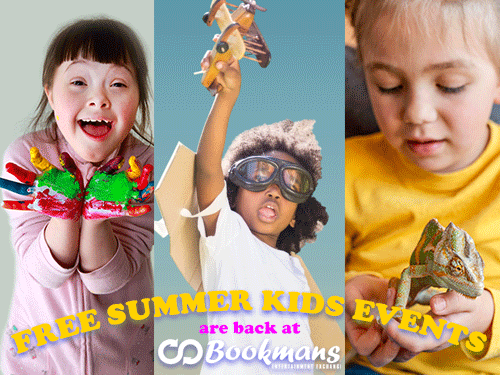 Free Summer Kids Events are Back at Bookmans Tucson!
Every year, Bookmans does something special to help kids have some awesome summertime fun. There is plenty of time for children to play video games and hit the pool. Bookmans wants to add another level of fun to their summer schedule with our free Summer Kids Events! Always fun, and always free.
With amazing themes including animals, STEM/STEAM learning, art, and even cosplaying fun, kids will want to join Bookmans, again and again, all summer long! Each Bookmans store's Summer Kids Events feature some of the most incredible local talents. Children will have an incredible opportunity to play, learn, and craft with some of their favorite local businesses and vendors at our free Summer Kids Events! Events can fill up quickly, so be sure to arrive a little early to grab a spot.
Here is what is coming up this Summer in Bookmans Tucson!
Bookmans Midtown (3330 E Speedway/Country Club) -Every Wednesday this Summer
May 30: Summer Kids: Marvel Madness
June 7: Summer Kids: Pirate Scavenger Hunt
June 14: Summer Kids: Under the Sea
June 21: Summer Kids: Aeronautical Adventure
June 28: Summer Kids: Dungeons and Dragons 101
July 5: Summer Kids: Musical Instrument Petting Zoo
July 12: Summer Kids: Lego Party
July 19: Summer Kids: Animal Friends
July 26: Summer Kids: Star Wars Celebration
Bookmans Northwest (3733 W Ina/Thornydale) – Every Thursday this during Summer
June 1: Summer Kids: Marvel Madness
June 8: Summer Kids: Pirate Scavenger Hunt
June 15: Summer Kids: Under the Sea
June 22: Summer Kids: Aeronautical Adventure
June 29: Summer Kids: Dungeons and Dragons 101
July 6: Summer Kids: Musical Instrument Petting Zoo
July 13: Summer Kids: Lego Party
July 20: Summer Kids: Animal Friends
July 27: Summer Kids: Star Wars Celebration
Bookmans East (6230 E Speedway/Wilmot) – Every Friday this Summer
June 2: Summer Kids: Marvel Madness
June 9: Summer Kids: Pirate Scavenger Hunt
June 16: Summer Kids: Under the Sea
June 23: Summer Kids: Aeronautical Adventure
June 30: Summer Kids: Dungeons and Dragons 101
July 7: Summer Kids: Musical Instrument Petting Zoo
July 14: Summer Kids: Lego Party
July 21; Summer Kids: Animal Friends